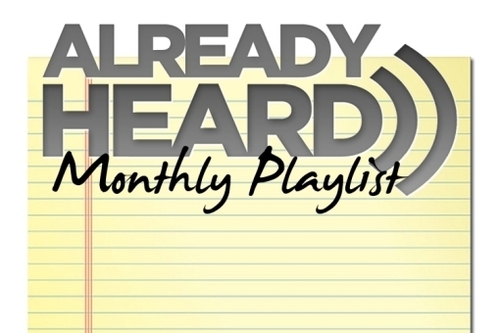 With a new month beginning brings a new Monthly Staff Playlist from us good folk here at Already Heard. Each month we bring you a playlist showing what the Already Heard team have been listening to.
Head on over to our Facebook page to tell us what you think of this months "Staff Playlist."
View the full playlist on our Youtube channel. Whilst a selection of this month's playlist can be streamed on Spotify.
Over the Ocean – God In My Own Image
Despite the good (brief) weather we've been having, I've been completely stunned by Virginia Beach's latest effort 'Be Given To The Soil.'
With comparisons to Mogwai, The Appleseed Cast,and mewithoutYou, Over The Ocean is a raw, cinematic and compelling experience that leaves you overwhelmed. (Sean Reid – @SeanReid86)
'Be Given To Soil' by Over The Ocean is available now on Spartan Records.
Over The Ocean links: Facebook
Astroid Boys – Minging
I remember seeing a live video of this Welsh mob sometime last year, but it was only after this track that the whole idea of Astroid Boys finally clicked with me. It really is an insane mashup of rap, hardcore and dubstep and I love it. Music can do whatever it wants and this is a perfect example. Hear 'Minging' released on their upcoming EP this summer, released through Pinky Swear.  (Mikey Brown – @MikeyMiracle)
Astroid Boys links: Official Website|Facebook|Twitter
Paris – The Heartless
Paris are a young quartet hailing from Massachusetts and recently released their killer, self-titled EP. Even though it's only five tracks long, each song shows promise but single 'The Heartless' is a mighty track. Featuring biting riffs and absolutely astounding and powerful vocals from Lynn Gunnulfsen, Paris are definitely not your typical female-fronted band. (Jessica Tagliani – @JessTagliani)
'Paris' EP by Paris is available now.
Paris links: Facebook|Twitter|Bandcamp
Gunning For Tamar – Another Season
Gunning For Tamar could easily be named the "hardest working band in Great Britain", touring the bombastic and accessible math-influenced indie rock constantly. Latest EP 'Camera Lucida' is an absolute stormer, and they've picked a peach to make a video for; 'Another Season.' This song should resonate with anyone who hails from a small town, as the lyrics ruminate on how face and places can change, yet stay exactly the same. (Ollie Connors – @olliexcore)
'Camera Lucida' by Gunning For Tamar is available now on Alcopop Records.
Gunning For Tamar links: Official Website|Facebook|Twitter
The Wonder Years – Dismantling Summer
After releasing new track 'Passing Through A Screen Door' just a couple of weeks ago – where they were greeted with fans crashing the website; they're back with another track to be released on forthcoming album 'The Greatest Generation.' 'Dismantling Summer' still maintains elements of Soupy's struggle with depression, but is somehow catchier and a lot more upbeat. Listening to this, it is clear that there has been so much progress from where they were a few years ago and it's plain to see that they still have a lot more in them to come. (Sarah Russell – @sarahbydesign)
'The Greatest Generation' by The Wonder Years is released on 14th May on Hopeless Records.
The Wonder Years links: Official Website|Facebook|Twitter
A World Defined – The Void
After a recent re-shuffle and the addition of new member Matt Pearson on bass, A World Defined have come back stronger than ever. The music is tighter, and with old bassist Liam Reeves now promoted to vocal duties; this new evolution in sound is definitely the right direction. A World Defined are currently in the process of writing their first EP with this line up – expect big things to come from this band! (Carrie-Anne Pollard)
'The Void' by A World Defined is available as a free download here.
A World Defined links: Official Website|Facebook|Twitter
The Long Haul – Holes In The Ground, Bliss In The Skies
Last year at Hevy Festival 2012, I decided to take a gamble and visit the Red Bull Stage to watch one of the newer bands. Fortunately stumbling on The Long Haul from Southampton was a perfect win for myself as they utterly tore the stage apart. They were a fresh, exciting and innovative band in UK hardcore punk that had a lot to offer. Unfortunately, their time, like their peers Kerouac, was cut short and they've called it quits. The band play their last show at The Black Heart in Camden with Pariso, Goodtime Boys, Let It Die and Grappler on the 17th May. Don't miss out. (Aaron Lohan – @ooran_loohan)
'Debtors' by The Long Haul is available now on Tangled Talk.
The Long Haul: Facebook|Twitter|Tumblr
A.M. Overcast – Violet By Fire Glow
If there ever was an transatlantic answer to the loss of cult favourites Tubelord, then it's A.M. Overcast. Mixing great pop hooks, beautiful melodies and odd time signatures, A.M. Overcast brings math-pop to new levels of greatness. 'Violet By Fire Glow' contains everything good about the band and is the high point of superb recent EP 'Pellow.' Dare to overlook this band. (James Berclaz-Lewis – @swissbearclaw)
'Pellow' by A.M. Overcast is available now on Bandcamp.
A.M. Overcast links: Facebook|Bandcamp
Axes – Rainbow Bacon
Every time I've watched a set from axes in the last year, I've been impressed by how face-meltingly enjoyable they are. Their album ('Axes') is full of crafty guitar work and bass that grooves and weaves about like its trying to avoid commuters on oxford street during rush hour. It feels fun, like mirrored by battles, playful and the sortof thing you need for dancing to in the evening. (Heather Robertson – @thecuriosity)
'Axes' by Axes is available now on Big Scary Monsters.
Axes links: Official Website|Facebook|Bandcamp
Chain of Flowers – Sleep
Chain of Flowers are a band that sound like they belong to another time, not that I'm sure which. This, their debut single will haunt you, disturb you but ultimately have you reaching for the 'repeat' button as you try to make sense of life, the universe, and everything. (Christopher Smith – @chrissmith_catp)
'Sleep' by Chain of Flowers is available now on 7" and as an mp3 download from Fear & Records.
Chain of Flowers links: Official Website|Facebook|Twitter
Tracer – El Pistolero
Aussie three piece Tracer are known for their unprecedented volume on stage and I don't mean because someone cranked their settings up to 11. This song is the first single off their forthcoming album of the same name. They have come back, heavier and more filthy than before with drop tuned riffage that makes you want to strip naked and have a girl fight in a pile of wet mud. (Heather Fitsell)
'El Pistolero' by Tracer is available now.
Tracer links: Official Website|Facebook
Captain, We're Sinking – Montreal
Captain, We're Sinking have been a long loved band of mine and waiting for this second full length ('The Future Is Cancelled') has been an arduous task. The song that is currently available from this record is 'Montreal' and it's already peaked as my favouite song of this year. It seems that Bobby Barnett has taken over a lot of the vocal charge and I think this change in the dynamic has really boosted CWS from a solid pop punk band to an all out incredible emo pop band. (Rosie Kerr – @RosieKerr)
'The Future Is Cancelled' by Captain, We're Sinking is released on 14th May on Run For Cover Records.
Captain, We're Sinking links: Facebook|Twitter|Tumblr|Bandcamp
Dad Punchers – Dirty Dishes & the Mold
Sometimes it's nice to feel nostalgic and let a song break your heart. May as well be Dad Punchers because Dad Punchers are downright fantastic. (Tom Knott – @nounandthenouns
'Dad Punchers' by Dad Punchers is available now on Sea Legs.
Dad Punchers links: Bandcamp