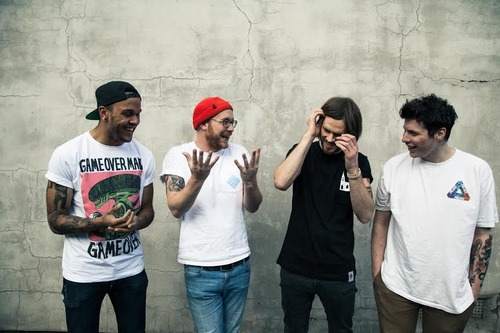 Having only just formed last summer, Leeds punks Brawlers have quickly made a name for themselves. With its members coming from bands such as Dinosaur Pile-Up, Leftover Crack, Castrovalva and Martyr Defiled, Brawlers have already built a strong following as a result of their raucous live show. Now the quartet are releasing their debut EP; 'I Am A Worthless Piece of Shit', six songs of fun, raw punk that doesn't take itself too seriously and ends up being one of the best EP's of the year so far.
As Harry George Johns from the band tells us, 'I Am A Worthless…' has songs about social media and normal everyday situations delivered in a fast, passionate style that comes off with fantastic results.
Expect to see Brawlers on the road a lot over the coming months, with a tour alongside Decade and Only Rivals taking place in May and other shows up and down the country beforehand. We guarantee you'll soon fall for Brawlers brand of faultless, drunk-infused punk rock.
We caught up with vocalist Harry George Johns to find out how the band came together, discuss Instagram, the Leeds music scene and more.
Already Heard: To begin with can you introduce yourself and your role in Brawlers?
Harry: Of course, I'm Harry and I sing alongside Matthew on guitar, Ant on bass and Tommy on drums in BRAWLERS.
AH: Although you've not been together for long, you're set to release your debut EP in March. How did Brawlers come together?
Harry: Man, we've been friends for ages but just circumstantially never really played in bands together. It was kind of weird, you know? Matthew and myself had an idea about merging the sounds of two of our favourite records – the first Strokes record and the self-titled Ramones record – and then Brawlers was born.
AH: How influential was the Leeds music scene in bringing you all together?
Harry: Not at all. The bands we all used to, or also play in, couldn't be any more different. We're friends before "band dudes".
AH: You all come from different bands which are quite diverse. How would you sum up the bands sound to new listeners?
Harry:
Uhmm, like a positive upbeat punky poppy 'get drunk and hug your best mate' band. Hahaha, I dunno man, you definitely don't need a musicology degree to dig on Brawlers.
AH: The EP is being released through the much loved Alcopop Records. How did you two come together?
Harry:
Alcopop are an independent label that act like independent labels should. It's simple, open, honest and they work on the basis that if you work hard and the label work hard – good things can happen. We like that simplicity.
AH: One song from the EP is called 'Instagram Famous'. What influenced the track? Are you a fan of Instagram?
Harry:
Yep! We all are! It's just about gorgeous girls looking beautiful on the internet whilst simultaneously moaning about how fat and ugly they are. It makes no sense to me. Its harmless fun.
AH: Other than songs about social picture networks, what else does the EP have to offer lyrically?
Harry:
Just songs and lyrics about normal stuff: not feeling good enough for someone, laughing about Facebook statuses, being ousted out of social situations. No Nietsche quotes I'm afraid.
AH: Like we said you've not been together very long but you already have a reputation for a raucous live shows. How does Brawlers differ in a live setting compared to being in the studio?
Harry:
Totally different beast dude. We smashed the record out in 3 days. We play for 20 minutes live and I hope we never play for longer. This band is prominently born out of wanting to play live, fast and with passion.
AH: Following the EP release, what else do Brawlers have planned for the rest of 2014?
Harry: T.O.U.R.
AH: As I noted earlier Leeds seems to have a strong music scene. What bands from the area should we be checking out?
Harry:
Allusondrugs, Two Trick Horse, Mi Mye, Navajo. The best drummer in Yorkshire is in a band called Broken Party Scene in Wakefield. Fucking unbelievable.
AH: Time to put you on the spot, why should Already Heard readers check out 'Brawlers'?
Harry: Because we don't sound like Bastille. If you're as sick of that shit as us, we're worth a listen I think.
AH: Do you have any final words to round off this interview?
Harry: Just thanks so much for taking the time man, independent zines, radio, blogs are way more important than the big guys now so It means a lot – thank you.
'I Am A Worthless Piece of Shit' by Brawlers is out now on Alcopop Records.
Brawlers links: Facebook|Twitter|Bandcamp
Words by Sean Reid (@SeanReid86)