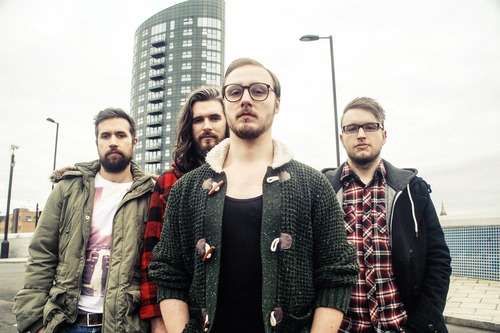 Formed through the dying days of MySpace in 2007, Essex quartet See You In Reno have been honing their sound for the past 7 years and are now set to release their debut EP, 'Masks' on August 11th.
The Chelmsford group cite bands such as At The Drive In, Glassjaw, Refused and Reuben as influences, so it is no surprise their sound is raw, melodic with a strong sense of loose urgency and drive. Just listen to recent single 'Check', and you'll soon understand why See You In Reno have got people talking in recent weeks. We're sure their Oz Craggs (Feed The Rhino) produced EP will surely get the credit it deserves.
In the meantime, Already Heard had a quick talk with bassist Iain Walker about the band forming through MySpace, 'Check', working with Oz Craggs and more.
AH: For starters can you introduce and your role in See You In Reno?
Iain: I'm Iain I play Bass and a bit of backing vocals.
AH: Let's get the standard stuff out the way. Tell us how SYIR can to be? I hear it involves a certain social networking site – MySpace?
Iain: Well it was all rather strange I guess none of us knew each other, back in the day we're talking 2006/2007 myspace was all the rage. I was looking to join a band as i'd just discovered that i could potentially play a instrument as you do, anyway I came across a page that said (NEED BASSIST.) so that was the start of it a few messages later I was jamming with Adam and we eventually got Toby (guitar) and Nathan (drums) on board it was settled.
All of this was via myspace and those 4 strangers have great unit.
AH: To give readers a better understand of you. How would you sum up your sound and who would you compare it to?
Iain: I always find it hard to sum up our sound or who we sound like, It's aggressive and raw but with a melodic hooky edge that might pull people in who normally wouldn't listen to something alternative. Comparing us to other bands… Cursive, Glassjaw.
AH: You've recently been recording with Feed The Rhino's Oz Craggs. How was that?
Iain: Superb. The man is a treat to work with he is very rapid with getting things done we recorded 4 songs and 3 days and I think we managed to do it because of Oz being bang on it from start to finish. Folkstone is rather splendid too top it off.
AH: What can you tell us about the material you've been recording? How does it differ to previous material?
Iain: Well it continues the momentum of our single 'Check' hopefully it's upbeat and fast paced hard hitting and vocally very catchy. It throws in the odd unexpected riff . To me this EP has finally produced something I'm proud of after years of hard work.
AH: You've recently release a single called 'Check'. First off what is the track about?
Iain: Yes it was released on the 21st July. To be honest not having wrote the lyrics, I don't know much behind what I'm sure is the true meaning. It however is based on the premise of a Chess game and trying to outwit your opponent.
AH: Does 'Check' give new listeners a strong understand of what SYIR are about?
Iain: I believe it does It has all the elements of what makes a good SYIR song; fast, slow, rough, gentle, melodic and nasty. It was a song we're all really pleased with, once we had finished it and we all knew it had the what it took to make a impact on people. Recording it with Oz was a great choice for us and I'd just like as many people to have a listen as possible.
AH: Going back to the EP, when can we expect to hear it?
Iain: It's finished! We're hoping to release it August / September. We also hope to have a video to come before the EP Release.
AH: Finally why should Already Heard readers check out and listen to See You In Reno?
Iain: If you like something that isn't just straight up looking to please you, we're for you. We've never wrote a song because we think people will love it. We just all love going to band practice and playing what we've recorded is just 5 songs we all think gives the best idea to you what See You In Reno is all about. Hopefully we will continue to do that.
'Masks' by See You In Reno is released on 11th August.
See You In Reno links: Website|Facebook|Twitter|Soundcloud
Words by Sean Reid (@SeanReid86)