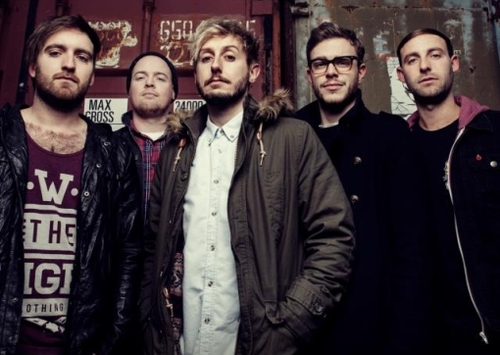 Cambridgeshire melodic rockers The First are set for big things in the coming months. Having just completed a UK tour alongside fellow up and coming bands I Divide and Anavae, the quintet are now set to play Download Festival for the first time as well as release their debut album.
As their new single 'Take It Back' shows, they have a sound consisting of powerful melodies, vicious guitar lines and memorable choruses, The First have all the characteristics to emerge from the underground. 
With an exciting few months ahead, we caught up with bassist Adam Masters to find out more about the band, their new single, playing Download and more.
Already Heard: Who am I speaking to and can you tell us your role in The First?
Adam: Hey it's Adam, the bass player and secondary lead singer!
AH: For new listeners, how would you sum up the bands sound and who would you compare it too?
Adam: Imagine if Young Guns and Alexisonfire had an intimate evening… Catchy chorus' with call and response vocals, and riffs that would remove one's eyebrows!
AH: This month you're heading out on the road with I Divide, Anavae and Underline The Sky. What can we expect from The First at these shows?
Adam: We've spent the last few months really pulling apart our live show, and taking into account what people want to hear, we've also added a load of new material.
AH: You're touring with some of the UK's most promising UK bands. Why do you think more "underground" bands are getting attention?
Adam: I think it's because new music is so much more accessible these days. I remember when the only way to hear what was going on was on MTV2 and Kerrang mag! But with social media being such a big part of a bands networking arsenal kids can get find out about bands so much easier.
AH: In May you're set to re-release 'Take It Back.' What can you tell us about the single?
Adam: 'Take It Back' is one of the first tracks we wrote after I'd joined the band. I'd always sung in previous bands so we thought we'd incorporate it with what the guys were already doing. 'TIB' is the result, a song that I think is one of the catchiest on the new album. Hopefully people will enjoy it.
AH: You're also releasing a new album in July. What can we expect from the album? Is 'Take It Back' just a preview of what's to come?
Adam: I think 'TIB' is a fair benchmark on the bands progression and how we've matured as writers and people. Saying that, there is a more mellow side to the record that shows we're not just your standard rock band.
AH: In June you're playing Download Festival. Are you looking forward to playing such a major festival?
Adam: Saying we are looking forward to Download is a massive understatement! To have such an opportunity is just unreal!!
AH: Have you attended the festival before? If so what are your memories?
Adam: Sadly I'm a Download virgin, but I know a lot of people who have and they say I'm in for a treat!!
AH: Besides the new album, UK tour and Download Festival, what else can we expect from The First for the rest of 2013?
Adam: I don't want to let you guys into too much, but there will be a lot more shows, singles, videos, tours and festivals… Wait and see!