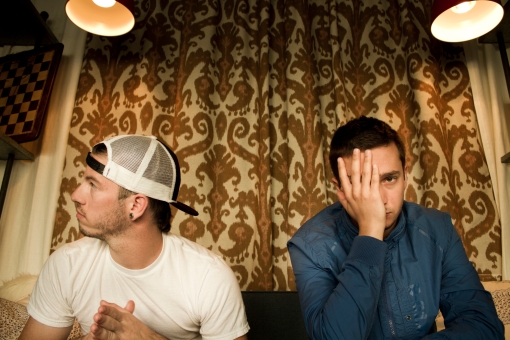 With a Billboard 200 album already under their belts, Columbus, Ohio duo Twenty One Pilots are set to make a splash here in the UK with the release of their new single 'Holding On To You' on 8th April.
Their own brand of "Schizoid Pop" could be described as mash-up between Fun., 3OH!3 and Hellogoodbye with piano-led melodies and energetic pop hooks.
Since forming in 2009, Twenty One Pilots has self-released two albums and their latest album, 'Vessel' is set to be given a UK release in June through the acclaimed Fueled By Ramen and sees the band working with producer Greg Wells (Weezer, Adele, Aerosmith.)
Already Heard caught up with the duo; Tyler Joseph and Josh Dun as they arrived in the UK for their first headline show. They discussed their new single, joining Fueled By Ramen, working with Greg Wells and more.
Already Heard: Could you introduce yourself and your role in Twenty One Pilots?
Josh Dun: I'm Josh and my role in Twenty One Pilots is to play the drums.
Tyler Joseph: I'm Tyler and I sing and play the piano.
AH: This is your first time here in the UK. How does it feel to be here?
Josh: It feels cold…
Tyler: But at the same time…we're from a place that's from similar weather.
Josh: So with that being said, it feels like home…and it's crazy! It's an honour to be here on the other side of the world and getting to be a part of the culture and play music with people here in England.
AH: While you're here you're playing a sold out show at The Barfly in London. What were your first reactions when you heard it was sold out?
Tyler: I screamed, like a little girl…
Josh: I fainted…
Tyler: He fainted… and I screamed that he fainted.
Josh: It was crazy… When we first decided to come over and play in England you just don't know.
Tyler: You assume that no one knows who the heck you are and that no one's going to be there, that's the assumption.
Josh: That's how it is in the states sometimes, you just don't know if anyone's going to show up.
Tyler: To have people coming to this show, it's great.
AH: For UK fans, what can they expect from a Twenty One Pilots show?
Tyler: Well there are only two of us on stage and I hope that they recognise the invitation to be a part of it because we need them! We're going to work for them at first, to prove to them that they don't owe us anything but then after that hopefully invite them to be the show.
AH: For new listeners your sound has been classed as "Schizoid Pop." Care to explain?
Josh: Well I think that people don't really know how to classify our music ever…which we don't either! And that's actually something that a writer in Columbus, Ohio came up with because he didn't know how to classify us and so we thought that was really cool. We looked up the word "schizoid" and part of the definition is confused and unpredictable and that's something that we go for in all aspects from writing, recording and playing live to maybe something that we're going to wear or do. It's important to keep people's attention because if somebody is predictable then you might lose that. It's really hard to describe without listening to it or especially seeing a show but maybe confused is a good way to describe it.
AH: The trip coincides with the release of your new single, 'Holding On To You.' Can you tell us what the single is about?
Tyler: The lyrics are very introspective. It's a moment inside of my mind and the things that I was going through and I'll never get sick of playing that song because I get to relive the things that I was going through at that time. In the end there's peace, in the end, we win. But throughout the song, there's a struggle. We'll see if anyone resonates with the lyrics.
AH: The single is a preview to your latest album 'Vessel.' In what way does 'Holding On To You' fit into the album?
Tyler: The reason why we're excited about having that be the stand out track is because if there ever was a song to place in the middle of our very wide dynamic of that album, then that song is a good middle ground of what to expect from 'Vessel.'
AH: Over in America, 'Vessel' peaked at number 58 in the Billboard 200. Did you ever expect that to happen?
Tyler: We don't really know much about charts and we didn't even know what that meant! I'm going "58? Who are the other 57? Let's take them out!" But it's cool to hear a number and think I guess that's good? The currency I guess is where you are in the charts these days, but it's hard for me to focus on that because every night I'm focusing on the people who are there right now, to live that album with us.
Josh: Yeah, I don't really want to be in the mind-set of numbers, I try and tune that stuff out. I'll leave that up to somebody else to keep track of!
AH: How has the overall response been to the album?
Tyler: The one thing I've noticed, because this is our first go around, the way that people from the industry have reacted to it. When they come to a show they think "oh they didn't just sing the single (but) they sang the entire album". And we're thinking, yeah we put out the entire album! Usually people come to a show to hear that one song that's doing well and to go to our shows and see our crowd invested in the entire thing. It is very encouraging and really honestly the way that we wanted it to be. That album is meant to be experienced in a whole, but you know we live in a world of singles!
AH: You worked with producer Greg Wells on the album. He has worked with several major pop artists. What did he bring to the record?
Josh: Obviously knowledge of how to make things sound the way that we wanted them to sound, which was really going into was the main thing that we wanted. We felt that the songs were written and we just wanted it to have a bigger and fuller sound to have it make a little bit more sense. It was great working with him because that's what he wanted to do, and he wanted to come in and maintain a lot of the same things that we had already done. Greg and his engineer, Ian both did a great job of getting it to sound how we wanted it to.
AH: You're latest signing to Fueled by Ramen. How did you come to join the label?
Josh: We signed a piece of paper…
Tyler: Yeah! It was that simple! We started just focusing on our home town and we developed enough of a following to sell out some venues that national touring acts are supposed to be in. We didn't really know it at the time but local unsigned bands weren't selling out venues like this, we just thought it was the next step… and there was one show in particular that we sold out. 1700 kids came out and at that point, we still don't know exactly how it happened but the ripple in the water started throughout the industry and by the next month there were over a dozen labels interested in us all at once. We go through this long period where it seems like no one is listening, other than the people who are supporting us, and all of a sudden everyone wakes up and wants to be a part of it. It was a crazy time in our life and we took it in our stride. We took our time and made sure it was the right fit and now we truly understand the good side of involving a label.
AH: FBR has a fantastic roster and is label that has had plenty of success. Was there any pressure or expectation to succeed when you joined the label?
Josh: Of course signing some kind of legal binding document with anybody is going come with a bit of pressure, but I think they've done a great job from the beginning of encouraging us and also confident in their abilities and our abilities together to make sure that it does work and that's a huge reason why we went with them. Since Tyler and I have started this without anybody there's been a confidence that we believe that this can work and that carried over when coming in with a label. But there is pressure always…
Tyler: That's why we don't want to know about charts!
Josh: Yeah…we just want to play music and that's it!
AH: 'Vessel' is released here in the UK in June. Why should fans check out the album?
Tyler: I wrote songs that I wanted to hear and I think that there are a lot of people like me out there, that always wanted to hear a song do that or be that or say that. But check it out and tell me that I'm wrong!
AH: Do you have any final words for the Already Heard readers?
Tyler: Maybe a lot of bands say that it's an honour to be over here in the UK and playing music for you guys but we truly do respect your taste in music and respect the industry that you have here and if you will have us, we are your band!
'Holding On To You' by Twenty One Pilots  is released on 8th April through Fueled By Ramen/Atlantic Records. The album 'Vessel' is released on 3rd June.
Twenty One Pilots links: Official Website|Facebook|Twitter|Tumblr
Words by Sean Reid