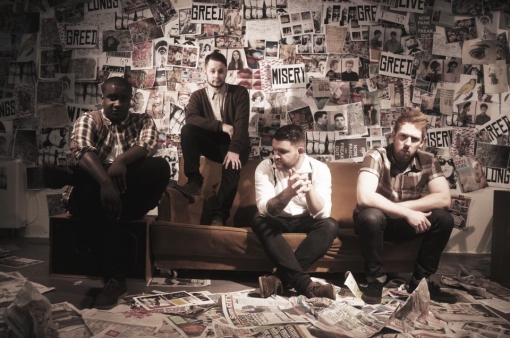 Formed from the ashes of pop-punk group Paige, Hertfordshire's Young Classics have come out armed with a wealth of experience. Their members have shared stages alongside some of Britain's finest talent, including You Me At Six, Enter Shikari and Bring Me the Horizon, and they've released two singles, 'Don't You Dare' and 'Lungs.'
2013 looks to be a good year for this quartet. They're currently working on their debut album and, if their singles are anything to do by, it'll be packed full of big, bold anthems that will get fans singing along in no time.
We caught up with guitarist Aaron Hunt for a quick chat to find out what direction the band is going in, how the writing and recording process for the debut album is going and what else we can expect from Young Classics this year.
Already Heard: Hi there! Could you introduce yourself and your role within the band?
Aaron: Greetings Already Heard. I'm Aaron and I play guitar in Young Classics.
AH: Young Classics formed from the ashes of Paige. What prompted the demise of Paige and the formation of Young Classics?
Aaron: We never really all sat down and had "that chat" as a band but we all knew that after Paul (Hinwood) our keyboard player leaving the sound we had been working on since, we simply couldn't use the name Paige anymore, purely because we wasnt "Paige" anymore. After so many lineup changes and experiences we'd all had during Paige, we felt that something new and different had been unsaid but inevitably coming for a while.
AH: How does this band differ in terms of sound? Do you feel that Young Classics is going in a different direction, compared to the direction that Paige was once going in?
Aaron: Definitely but it was never a conscious decision/process, I think for a while after we knew we were "done" with Paige. We just wrote songs as a four piece for the fun of it and hadn't really even had any idea for a name or idea of becoming a new band. I think it was only after a while into mixing our ideas for this unnamed project, that we all just thought that we have an album of songs and we all really like it, we should try and do something with them. As far as direction, goes I definitely think that we're now on a completely different level both as both song writers and musicians as we were and the natural progression of that is to change direction.
AH: You recently released two songs – 'Don't You Dare' and 'Lungs.' How was the writing and recording process for both songs?
Aaron: The writing and recording process for these songs and the entire album really was something that we hadn't tried before; after demoing and tinkering with the tracks over and over again, instead of all of us going to the same studio and recording the tracks as we had done before loads of times prior. We recorded our drums and guitars in separate studios and our vocals at Arthur's home studio. I think we just wanted to try something new and thankfully it's turned out something that we're all happy with.
AH: You released an official video for 'Lungs.' How was the filming process?
Aaron: Haha, recording the video for 'Lungs' was fun. We chose to film with the fantastic Tom Cronin in a smallish studio in London because we wanted an indoor and sort of claustrophobic look for the video. Filming videos for us is always about 50 percent moving equipment up and down stairs and trying not to damage anything, and the rest trying not to sweat and look at least half way presentable. Our idea for 'Lungs' was that we wanted to fill a room with hundreds of pictures of various things related to the song, I think we had at least a thousand of pieces of A4 stuck up with blu tack on the perfectly white painted wall of the studio which took us ages to put up but only about ten seconds to tear down, leaving hundreds of little blue marks behind, the studio owner wasn't best pleased.
AH: How has the reaction been from fans, in terms of your singles and your sound? There must have been many that were disappointed when Paige decided to call it a day.
Aaron: The response so far has been amazing! We're all really happy with all the comments and feedback we've received, we wasn't sure at all how people who were fans of Paige would react but we haven't really had any bad reactions so far. All I can say to anyone who we have upset by ending Paige is that we promise to make up for it in every way with Young Classics!
AH: You're currently working on your début album, which is due for release later this year. What's the lyrical content of the album?
Aaron: I guess lyrically with the album there are tracks that we hope people can relate to and interperate in their own way, you'll have to wait and see.
AH: What are the influences on the album?
Aaron: We are all influenced by so many different bands/artists from all genres and times and not even always in a musical sense. I think we have achieved a very different sound compared to anything we have done before in prior bands and to list every influence we have would take too long, I think though the main influence on what we have made is the idea of looking differently at the whole song writing process and trying to approach everything differently to how we have worked before.
AH: Can we expect to see the band in a live capacity anytime soon?
Aaron: Of course! We are all extremely excited to tour and play the hell out of this album, I can't give away any times/dates yet but believe me we are coming and we can't wait to see the response to our live show!
'Lungs' by Young Classics is released on 20th May.
Young Classics links: Facebook|Twitter|Youtube
Words by Jessica Tagliani (@JessTagliani)