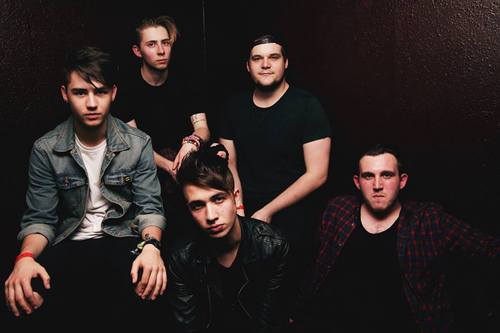 Late last month Southampton based punk rockers Dead! hit the road in support of their recent single, 'Phantom' and to mark the occasion, they decided to write about their time together over the 10 days especially for Already Heard.
Read on to find about the bands activity on the road; sight seeing, eating plenty of food and the odd drink here and there.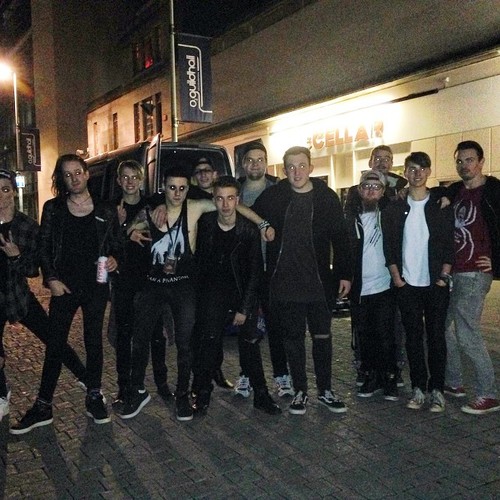 Day 1 – The Cellars, Southampton
Our first gig was at The Cellars in Southampton with our old tour buddies Ashes To Angels. We got there at about 4 to start load in but our van (and gear) was stuck in traffic. Fast forward a few hours, a lot of waiting and a few drinks later and we finally had everything set up ready to sound check; we ran through the B-side to our latest single 'Phantom' called 'Two Years, Four Months, Fifteen Days' (which you should definitely go and download now eyyyy) as well as a new track.
After that we ran to the park with a massive piece of black fabric and white spray paint to make ourselves a backdrop; we got the wrong kind of paint and it looked like shit… Soon enough it was time to hit the stage, we gave some of our older songs a final run on this tour, which our more "seasoned" fans seemed to appreciate.
The gig was disgustingly sweaty and stupidly fun (and nothing broke).
Day 2 – The Gryphon, Bristol
Next up was The Gryphon in Bristol. When we arrived we found the room we were meant to be playing in had been set up as a craft beer tasting/selling thing, which was kind of awesome. We had a chat to the lady selling them and obviously grabbed a few for ourselves. Soon enough she'd packed away and left and it was time for us to load in (which is gonna be a recurring theme in this little diary). After that some of us went off to find some food around Bristol and after a lot of deliberating decided on noodles, so yeah, there's that.
The gig was A LOT of fun that night, great crowd and sick support bands. Onto the next one…
Day 3 – Alfie Birds, Birmingham
Birmingham! Such a cool place, the gig was at a place called Alfie Birds, the room we played in was technically part of a custard factory, which was pretty sweet (ha). We found Groot from Guardians of The Galaxy outside the venue and it turns out he's a massive fan so he asked for a picture. Before sound check, we went to look for a drum mat (ended up buying a welcoming mat), this turned into an excuse to have a wonder around the city; Sam bought a Django Unchained shirt and Chappell bought an Army of Darkness shirt; so mission accomplished…
The Birmingham show was definitely one of our favourites of the tour, not really sure why but everything just seemed right, really awesome/responsive crowd and (again) really great support bands.
Day 4 – Temple Of Boom, Leeds
LEEDS. TEMPLE OF BOOM. This venue was like a DIY punks' wet dream, it's hard to explain why but it's awesome and you should check it out. Some of us realized we'd massively under packed by this point so we went to find some clothes (and again, food); we're pretty terrible at not getting distracted so this ended up being a trip to forbidden planet, a music store and various food stops.
Again the gig was brilliant, and the dudes in Kill The Silence smashed it.
Some of the band went out that night and came back in the early hours of the morning; we'll save those stories for another Internet diary…
Day 5
Day off. Woke up at 5pm, travelled from Durham to Leeds, stopped at Harvester, fuck yes Harvester, played some Xbox and watched the theatrical masterpiece that is Robert Rodriquez's Planet Terror. Good day (would still rather be playing a gig though).
Day 6 – Fishtank, Durham
This one was at a place called Fishtank in Durham. Other than the gig, most of the day revolved around a trip to Durham Cathedral, aka Hogwarts. Yep. There was a service on when we arrived so we weren't allowed to reenact any Harry Potter scenes (unfortunately), it's almost like they didn't know we were coming.
Durham was another incredible gig. We like floor shows. 'Woksup' is called 'Woks Next' now. Less cool.
Day 7 – Old Hairdressers, Glasgow
After spending the night in Durham again we journeyed up to Glasgow. Turning up to play a gig somewhere so far from home and seeing such a huge queue is so fucking crazy/weird/amazing. We found a place called 'Geek Retreat' just down the road from our venue (The Old Hairdressers), which was like walking straight into heaven, spent the majority of our down time before the show inside, if you get the chance then definitely go there.
This was probably our joint favourite show of the tour. I know I've already more or less said it but holy shit, what an amazing thing it is to play a gig so far away to a crowd as good as that. Such a good gig.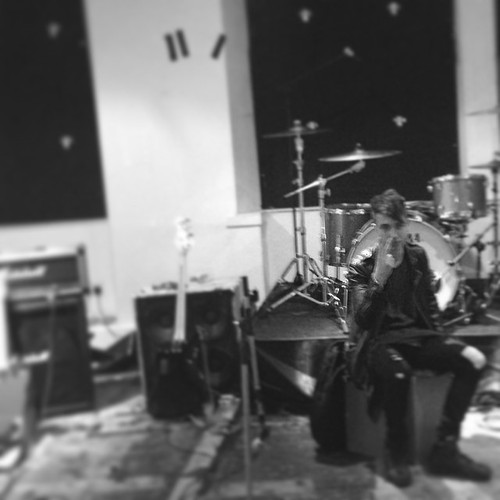 Day 8 – The Alma, Bolton
The Alma, Bolton. Not a lot to report on during the day for this one, went for a look around the city for some food again and ultimately just ended up doing what we always do getting some shitty fast food… enjoyable gig in a cozy venue though!
Day 9 – The Old Angel, Nottingham
Nottingham! Played a cool venue called The Old Angel that had a Tekken arcade machine in it which was fucking incredible – Other than playing gratuitous amounts of that we went to pick up some blank t-shirts and bleach to make some more merch (which we'd sold out of the night before) in preparation for our next show, we also spent a stupid amount of money on a trip to Pizza Express (8/10). Not a lot more to say about the gig that hasn't been said before, kind of run out of adjectives that don't make us sound pretentious or weird… fabulous show.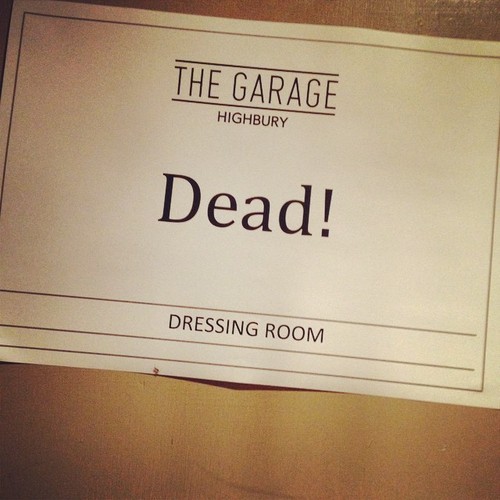 Day 10 – The Garage, London
Arrived back in London at 4am and made another lot of merch. Had an early start to get everything together for the final night of tour, very hectic day with lots of gear checking and organizing to do but goddamn was it worth it. This one really felt like the start of something new. One of those moments that makes everything worth it. Thanks London.
We'd also like to say a MASSIVE thanks to anyone that came out and saw us on The Phantom Tour, whether you'd seen us before or it was your first time, you really helped make this one special.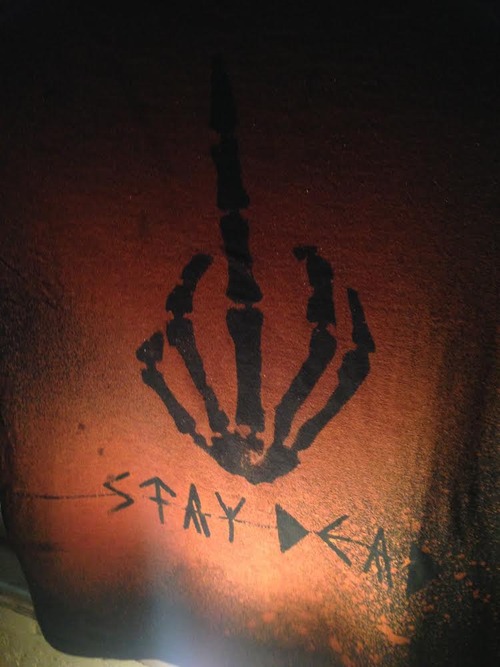 DEAD! links: Facebook|Twitter|BigCartel
If you would like Already Heard to promote and sponsor your tour/show or set up a "Tour Tales" feature, send an e-mail to sean@alreadyheard.com for more information.