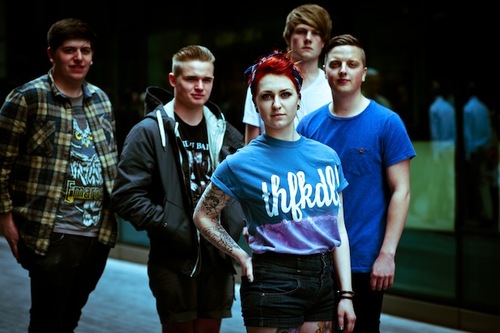 With their new EP dropping last week, Southampton based alt rockers Forever Can Wait last month headed out on tour with Out For Tomorrow, Villains and Thousand Fingers.
As part of our "Tour Tales" feature, the female-fronted rockers documented their time on the road as their geared up towards the release of 'Beauty&Grace'.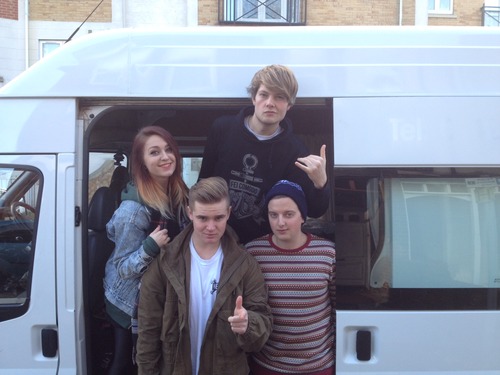 Day 1: Ashford, Kent
With the first 3 dates unfortunately being cancelled we were rather happy to be setting off to Kent to start our tour with Out For Tomorrow and Villains (final 5 dates). We thought we were doing so well, until we realised we had forgotten the merch (handy). After setting off for a second time, we made it to Ashford without having to turn around again.
By the time we got there it was dark and we couldn't actually find the venue (good start). Finally parked up, we met the guys in Out For Tomorrow and looked at the venue, only to find out, the stage was outside in a marquee?! It's the first show we've ever played that we've felt like we needed to jump about to keep warm.
To try and avoid a cold night in the van, the guys at the venue let us crash in the cellar as it was warm and had some mattresses down there. After a bit of band bonding and games of slender man with the other guys, we all crashed out (on some very questionable beds). Not the best nights sleep, but it was warm, luckily, as we found out in the morning that we were apparently staying in a haunted cellar under a half way house. A couple of the guys dogs can't even get down the stairs. The van looked appealing after hearing that.
Day 2
We didn't have a show so decided to look around Canterbury and ended up visiting Toby's cousin. A night of beers, food and Monsters University in the warm was a perfect way to end a day off. Plus, showers!
Day 3: Crawley
Today we were in Crawley! When we arrived at the pub, the stage and venue was still under construction, so we grabbed some beers and decided that pool would be the best way to pass the time. Once again another chilly venue, but by this point we had realised it was just that time of year where everything is cold! All the guys decided that it would be a good idea to drink more to keep warm, so a couple of mugs of out of date Ringwood went down, I guess well… Kind of.
Having a proper bed thanks to our friend Rhys was incredible. Being able to have any sort of bed that isn't the van on tour is a god send.
Day 4
Yet another day off. Having two in such a short space of a time wasn't great as we just wanted to play shows, but it was nice to go to London for the day and see Wills parents, girlfriend and have a lovely coffee!
Day 5: Ipswich
We'd never been to Ipswich so we didn't know what to expect. The pub was very tiny, and once again, quite chilly! Other than that it was a good show, very intimate, plus it was the first night with the guys in Villains.
After a few members of the touring party funnelling part of Villains jäger endorsement, a group of us ended up out in Ipswich for the night! Jäger bombs and "moonshine's" all round. It definitely helped us keep slightly warm in the van that night, but even with that, we couldn't all help but shiver (everyone bar Toby who slept in his boxers yet was "toasty" god knows how).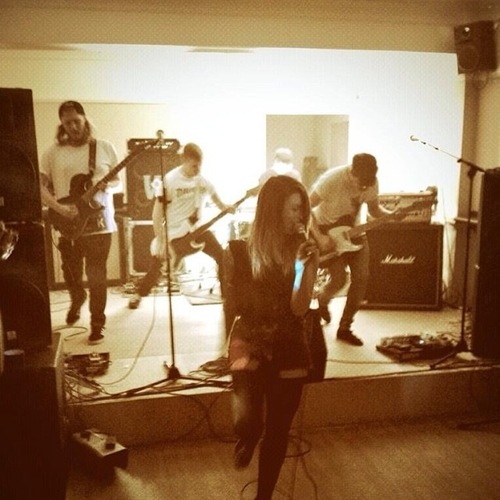 Day 6: Birmingham
After getting a text from the Villains guys, it seems they're van didn't want to cooperate with them today and they weren't going to make it to the show in Birmingham.
We found that getting a good meal on tour is hard, so making a quick stop at Toby's mums was a must! After Tash and Toby made everyone a veggie pasta bake, we got back on the road to Birmingham.M/p>
We weren't entirely sure where the venue was and it seemed that Luke's stomach was not agreeing with him at all. Finally after spotting some rather large arrows pointing the way out, we found the venue!
This was possibly the best venue and sound so far on the tour, it was a shame about the turn out, but this has become out motto for the tour "you've got to play the s**t shows to build up to the good ones". It was just another step up towards better shows.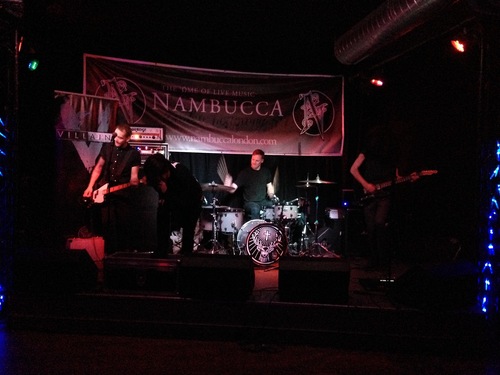 Day 7: London
After another night in a bed (so thankful) we made our way to Nambucca in London for our best show yet. Opening the show tonight was a band from Israel who decided to grind on the audience and run around the venue while chucking in some serious 80s hair metal guitar solos! Then they decided to get insanely drunk and buy our Tash a whiskey shot then stroke her tattoos asking her many odd questions about them. One of the stranger moments of tour! We then ended the night at Wills girlfriends with an incredible veggie chilli and home made cake!!
Day 8: Southampton
After about 3 hours sleep, we decided to head back to Southampton early for some home comforts before our hometown show that night, plus we finally got to see our new beanies! It was lovely to have some drinks with friends (for Tash it was a few too many) and play in Southampton again.
We're not sure that the other bands got to see fully what a good night out in Southampton was like, but tonight was the night that band snapchat started! (We won't explain, it's a bit too explicit! We'll just say that it involved a book called penis pokey)
Day 9: Swansea
We'd reached the final day of tour! We were all feeling a bit worse for wear, but we needed to get to Swansea for the final day. The venue and the staff were lovely! They gave us a load of beer and a massive (but unfortunately cold) room to spend our final day in together.
After watching each other smash it for one final time, we all rounded up for what seemed like 50 end of tour photos, said our goodbyes and all had to make swift exits as we all had our eyes set on our own beds. Plus a ¾ hour drive home for us wasn't going to be great.
This wasn't the luckiest of tours, and our final obstacle showed this. The M4 bridge was closed, which was very handy! After a short diversion and a couple of coffees we headed home.
It's safe to say we are well into post tour blues now but it was lovely to have met some of the nicest guys. If you have a spare few minutes, definitely check out Out For Tomorrow and Villains along with our new EP 'Beauty&Grace'. We couldn't have chosen nicer bands to hit the road with!
Time to start planning the next one!!
'Beauty&Grace' by Forever Can Wait is available now.
Forever Can Wait links: Facebook|Twitter
If you would like Already Heard to promote and sponsor your tour/show or set up a "Tour Tales" feature, send an e-mail to info@alreadyheard.com for more information.