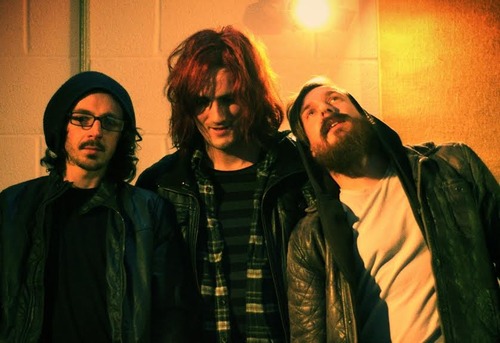 This coming Monday, duel-bass Noise-Rock trio Exit_International release their new album – 'Our Science Is Golden'.
Having received critical acclaim for their 2011 debut 'Black Junk', the Cardiff/Brighton band have picked up where they have left off and have delivered another superb mix of riotous and crushing hard rock in 'Our Science Is Golden'.
Filled with chaotic riffs and plenty rawness, Exit_International are ones to watch in the coming months.
To give you an insight into 'Our Science Is Golden', the trio provided us with a detailed track-by-track account of the record. Read on to find out what 'Our Science Is Golden' is all about.
If your band would like to set up a 'Track Guide' feature for Already Heard, please email Sean Reid.
1. Weird Card
Adam Thomas (drums): The only thing I remember about writing this song is that, after we played it start to finish for the first time, the words "album opener" were not far behind. A statement of intent for 'OSIG', this track sets the tone for the rest of the record.
Fudge Wilson (bass): Who doesn't like a bit of loud-QUIET-loud? We definitely don't not like it – in fact, we love it. We decided not to not do it and did it. A dark blue circle.
Scott Lee Andrews (vocals): The title comes from something I read about Helen Flanagan while googling her. Then I saw her on some TV, show and it was confusing. She has awesome breasts with a goat's head attached. It's lyrically engineered to have a sexless protagonist/object, as boys and girls can both be as fucked as each other – in mating ritual terms. Jukebox in my head: Weezer, The Cribs and Rammstein.
2. The Creeps
AT: Sometimes, when you're in a band, a song will just come together without having to dedicate too much time or effort – a song that instantly speaks for itself, without agonizing hours of chopping, changing and reworking. This was not one of those songs.
FW: A claustrophobic little jerk. Like a younger brother with a big dick – annoying, but admirable. A yellow triangle.
SLA: I think I've always been a bit of a creep. Like Thom Yorke. I used to hide it growing up. Sometimes the mask slips. I think it's fun to be childish – I'm 31 going on 13. Getting old terrifies me. Jukebox in my head: Mudhoney, Soulwax, Missy Elliott.
3. Nitro Zoo
AT: Probably the oldest song from 'OSIG'. It contains the lyrics, 'Rats out, rats out, one two three'. That's all you need to know.
FW: It's pop meets apeshit. Classic E__I pseudo-riffage kisses pixies-esque atmospheric rock. A long red line.
SLA: The great wave of band names with an animal in there. This created the 'Wildlife' scene as we now know it as. We love animals and all that, but I way prefer shagging girls. Jukebox in my head: The Eighties Matchbox B-Line Disaster, Pocketwatch, Tom Jones.
4. Fuck Yeah! Depression.
AT: This is great fun to play, and one of the most energetic songs on the record. The ridiculously out-of-context drum fills and a very tasty riff make this one of my favourites on the record.
FW: Lots of bits of stupid glue together, making a giant stupid that is bigger than the sum of its parts. Think King Kong playing chess. Three purple squares.
SLA: Fudge and myself have always tried to fuse out parts together into a Frankenstein. This made no sense at the time, but it's a total fan-favourite nowadays. Adam's fills are killer. It's my favourite to play live. Jukebox in my head: The Wildhearts, 'Holy Bible'-era Manic Street Preachers, Death From Above 1979.
5. Black Jesus (Pink Pound)
AT: Fudge takes to the mic for this one. It's bleak and completely non-P.C. This song is absolutely intended to cause offence. If you were offended, congratulations.
FW: This song is about falling in love and the pressures of high school life. It has a pop-punk template with a hip-hop groove. A yellow sun with a smiley face.
SLA: Initially, this was Fudge's pet beast – I couldn't break down my adherence to certain musical scales and modes to which he has absolutely zero regard for. This was a head-fuck for me at the time, and one of a few mental collapses during the making of the record. Now? It's possibly my favourite track to listen to on the album. I'd seriously like to split the next album half and half with Fudge. Jukebox in my head: Metz, Girls Against Boys, Spinnerette.
6. Crux
AT: It's angular and rhythmic with a beastly riff at the end.
FW: I bought a cowbell, and needed a song to use it on. A navy blue rectangle.
SLA: I've always been a riff-writer first and foremost, so structure and form are secondary. I knew this riff was going to be a killer, but was impossible to not overuse it like most bands would. It took a lot of restraint to use it subtly until the outro. Lyrically, I think I was trying to talk myself out of doing something daft, which happens a lot. Jukebox in my head: The Hickey Underworld, Scissor Sisters, Muse.
7. Kojak Rollkneck
AT: This song single-handedly proves that nobody cares about lyrics.
FW: It's a rampant sex-walk through a whisky factory. It's a pop song – a beautifully constructed number with a foot full of bullet holes and a heavy chorus. Wonderful stuff… Cunt. A blue rectangle.
SLA: Stream-of-consciousness lyrics can go either way. I think these are some of my best. Google the title. The spelling is our own. Remember how Cobain used to spell his name Kurdt? It's the same ballpark. A band in-joke gone too far. I think it's an echo to the female of the species, à la 'Chainsaw Song'. Make of that what you will. Jukebox in my head: The Pixies, Oasis, Prince.
8. Our Science Is Golden
AT: This is one of the songs that takes us outside of our comfort zone, musically. Slow-paced and solid, this was an ambitious effort that I think paid off.
FW: I can't remember how this one goes… It's pretty long. A long, misty cloud.
SLA: This riff was first played in Adam's first rehearsal with us in 2009. At that time, we were still very much preoccupied completely with volume and being as abstract as possible, so it slipped away. Four years later, and stupidly close to the recording deadline, it was bust out again. It was a definite change of gear, but we still wanted it to be sexy. Big and sexy-sexy. Jukebox in my head: The Jesus Lizard, Awol Nation, Foxy Shazam.
9. Juvenile Pacemaker
AT: Written and recorded within three days, this was the, "Let's see what we come up with when the pressure is on" kind of song. It's massively aggressive, with vocals recorded ad-lib. Basically, us fucking around.
FW: It's blues by numbers; a song about people who declare things to be rad. Call centre fodder. Topshop. No socks. No clue. We made this up and played it once… at different times, recorded it and listened to the results. Stunning. A small black circle.
SLA: This was the last track written for the album. Fudge led the way, kicked the doors down and spat black gold out. His attention span is short, so it's great for coming up with these acerbic blasts of venom. You can quote that. There's real anger in this one. I'd get kicked out of a club in Cardiff all the time for being drunk, and kicked off. Spoilsports. Having too much of a good time to Instagram it? Don't worry – some other smarmy cunt will. It features the voices of members of the 'Exit_International Are Wankers' Facebook group. The internet is cool. Jukebox in my head: Gay For Johnny Depp, Vandal X, The Bronx.
10. The Nein Tease
AT: Surprisingly a fan-favourite, this song is perhaps as ambitious as the self-titled track, taking us out of our comfort zone. This is the one to play to friends and family. It's ultra-poppy, and has a nice vocal: 'Hot heart head hot heart…' Laaavly.
FW: A beautifully executed slab of alt.pop, I think it's about girl or a decade. All I know it's that it's slamming. Brutal but smooth… Like getting fisted by Desmond Dekker. A yellow oblong.
SLA: Zero thought from us equals surprising results. We were moving into that 'BIG ROCK SONG' territory and subconsciously "trying to do a Biffy". It really came together. All my favourite bands were at their peak point in the 1990s. When there were B-Sides. Instead of saying, 'Everything is shite now', it's a bit more positive. There are loads of innuendos. Jukebox in my head: Dinosaur Jr., Bush, Olive.
11. F.L.T
AT: This is dark. Very, very dark. Subtle tempo changes + a weighty riff + Queens Of The Stone Age = F.L.T..
FW: A homage to a song that isn't as good as this song. Again with the loud quiet loud dynamic… AND WHY THE fuck NOT?! A purple and orange line.
SLA: A lot of the E_I sex songs have a humorous element to them – F.L.T. isn't one of them. It's very direct. There's a clinical, not-fucking-about attitude built for dirty sex. Jukebox in my head: Deftones, Placebo, Nine Inch Nails.
12. Sod Off Punk
AT: Punks, eh? They have an opinion on everything and a solution for nothing. They claim to be open and accepting, while casting judgement on anyone who doesn't conform. Punk is no longer liberation and freedom – it's conformist and elitist. So we're calling you out. Sod off!
FW: An amalgamation of many ideas, unsubtly smashed into submission and wrenched into shape. Lots of notes are played at different times, and together. I think we use a G# in there somewhere. We're always striving to reach new grounds. My favourite bit is the one where I count four, then seven, then four, then three, then four in my head. Oh, and the bits where I have to count to 10. A sprawling light blue and dark green rectangle.
SLA: I don't think we set out to write a closer for the album, but this couldn't go anywhere else. Musically, every time we get through the song, we high-five each other. The first true 'epic' E_I song. Jukebox in my head: Battles, Biffy Clyro, Therapy?
'Our Science Is Golden' by Exit_International is released on 3rd March on StandardSeventyPercent.