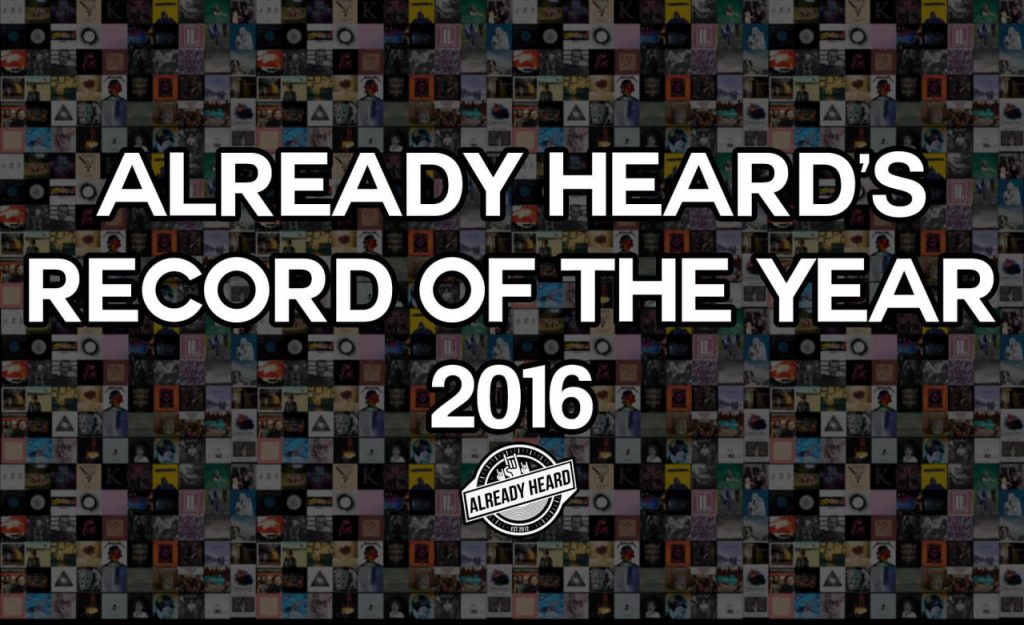 2016 has been a year ups and downs. From an abundance of influential people passing away to political uncertainty on both sides of the Atlantic and beyond, for many 2016 has been a year to forget. Nevertheless, one positive to take away from the past 12 months is the wide variety of excellent records that became our soundtrack to 2016.
As we prepare to say goodbye to a rollercoaster of a year, Already Heard would like to share our list of the top ten records of the year.
10. Deftones – Gore
Deftones are one of the few bands to escape the late '90s nu-metal period intact, doing so by developing their initial sound into something altogether transcendent of the genre. With 'Gore', Deftones surpassed themselves yet again, demonstrating why they've managed to survive not only their nu-metal roots but 20 years worth of trends in heavy music.
With four years for the band to focus on writing and recording 'Gore', Deftones delivered a tighter album which was full of more interesting ideas and was generally better than the band's previous opus, 2012's 'Koi No Yokan'. 'Gore' pushed Deftones' sound into more weird and wonderful directions, opting for a spacey, meandering tone that still allowed room for more well-established elements of their sound.
Songs like 'Hearts/Wires' and opener 'Prayers/Triangles' fully embrace this tone, with the former in particular seeing Deftones at their most unnervingly ethereal best. While the sludgy 'Doomed User' and off-kilter songs like 'Xenon' showed the band's heavier side. (AC)
9. Moose Blood – Blush
Back at the start of May, Moose Blood took to the small outdoor stage at Groezrock and delivered a career-defining set filled with wide-eyed awe and precocious infectiousness.
That there was an air of expectation around 'Blush' suggests just how much Moose Blood have grown following the success of a handful of singles and EPs, and 2014 game-changing 'I'll Keep You In Mind From Time To Time'. Yet, much like swelling Groezrock crowd, they faced the challenge head on, all the while concealing coy smiles and breezy emo-tinged pop-punk hits. And that's exactly what 'Blush' is all about.
It's the sound of awkward adolescence and finding your place in the world, and while you could look at it through tired and cynical eyes – especially if you're on the wrong side of 30 – that would do a disservice to just how well-observed it is.
At turns hopelessly romantic ('Honey') and heartbreakingly poignant ('Sway'), 'Blush' is an album that makes you wish you were 15 years younger, brimming with optimism and a will to change the world. Moose Blood play this rose-tinted nostalgia well, making the introspective and personal a joyous communal experience. The result is another high water mark for a band that continues to – deservedly – grow exponentially. (RM)
8. Every Time I Die – Low Teens
We dare anyone to find a record this year with as many consistently brilliant riffs on it as this one. Don't believe me? Blast this as loud as you can and see for yourself. Just try to stop your neck from snapping. Guitarists Jordan Buckley and Andy Williams have always brought the goods, but they surpass even their own lofty expectations with this one.
Adding character to the carnage, Keith Buckley utilises very real trauma in order to deliver a career-best performance. This is a poignant and powerful showing from the versatile frontman who harnesses raw emotion to twist at the heartstrings. In a back catalogue full of stunning records, 'Low Teens' is the Every Time I Die record you will keep coming back to. It easily deserves its place as one of the records of the year. (JP)
7. Panic! At The Disco – Death Of A Bachelor
There are two things that this list brings to mind about the musical output we've wrapped our lungs around in the last 12 months. One: just how diverse an array of bands have put out quality releases, and two, that it was the year that Panic! At The Disco finally matched the lofty heights of their debut. In 'Death of a Batchelor', we got an album that was sassy, classy and, with a bit of help from some determined genre and era-hopping in its influences, one that sounds about as timeless as pop-rock is ever going to get.
Brendan Urie utterly excelled himself in almost every aspect of his game delivering both the writing and vocal performances of his life. In a year that has deprived us of far too many musical icons, with DOAB he took a huge swing at bagging such iconic status for himself and arguably got damned close to achieving it. Combining a dazzling array of pop, rock, classic swing and subtle touches of hip-hop and R'n'B this was an album that fans of almost any genre of music could find something to like about. And that's a rarity in itself.
Just try and listen to the title track or album closer (and rather aptly named) 'Impossible Year and not be completely blown away by the artistry and panache involved. What a glorious release. (DW)
6. The Dillinger Escape Plan – Dissociation
When news broke that The Dillinger Escape Plan, the most innovative and daring band of the past 20 years, were to split up in 2017, it was a bitter pill to swallow, but also made their sixth and final album 'Dissociation' one of the most poignant heavy releases of 2016.
As a body of work, 'Dissociation''s goal isn't to make a song and dance about the fact that it's DEP's swansong but it serves as an incentive for the band to push their creativity and craft to their peak, making it a rewarding experience for both the band and listeners which stands tall with their already golden back catalogue. Every rattling rhythm section has been painstakingly created with the intricacy of someone making sculptures with toothpicks and played with a cut-throat energy that levels those sculptures to the ground.
At heart, this record is a celebration of The Dillinger Escape Plan and a creative driving force that has pioneered the best hardcore and metal music to push it's limits and refuse to ever compromise. (AD)
5. letlive. – If I'm The Devil…
If there is a band who have organically evolved in recent years, it is letlive. 'If I'm The Devil…' marks an hat-trick for the Los Angeles band after delivering two stellar records in 2010s 'Fake History' and 2013s 'The Blackest Beautiful'.
It is their most expansive and melodic effort to date. From the grandeur of opening track of 'I've Learned To Love Myself' to the ferocious Black Lives Matter-fuelled 'Good Mourning, America,' to the tranquil 'Foreign Cab Rides' to the funeral marching conclusion of 'Copper Colored Quiet', letlive. serve up a melting pot of styles that is bridged by the quartet's confidence in their ability to transition from one genre to another.
At its core is the soulful Jason Aalon Butler, whose impassioned and introspective words continue to leave a lasting impression through his honesty and realism. Along with his band mates, letlive. continue to show why they are one of rock's most vital groups. (SR)
4. Thrice – To Be Everywhere Is To Be Nowhere
As far as comeback records go, Thrice knocked it out the park with 'To Be Everywhere Is To Be Nowhere'. Returning with their first album in five years, the quartet delivered one of 2016's most consistent records.
Occasionally cathartic, at other times apocalyptic yet constantly cinematic, 'TBEITBN' is a monumental alt-rock record that sees Thrice grow into their ageing skin. Throughout Dustin Kensrue's vocals are weathered as 'Blood on the Sand' roars in the chorus before 'The Long Defeat' thrives on relief. Whereas notable tracks 'Black Honey', 'Stay With Me', 'Whistleblower' and 'Wake Up' are perfectly executed by the four-piece.
Lyrically they are defiant as Kensrue takes on a whole matter of political and personal subjects; foreign policy, immigration, the current social climate and his stance on God. The end result is a record that seamlessly flows with ease. Equally polished and raw, Thrice have never sounded so accomplished and compelling. (SR)
3. Touché Amoré – Stage Four
Where do you go after addressing The Big Questions? Sometimes fate has a funny way of intervening; throwing a curveball that's as powerful as it is unavoidable. And that's where Touché Amoré found themselves following the release and subsequent acclaim afforded 2013's 'Is Survived By', an album preoccupied with legacy, identity and purpose.
'Stage Four' – a powerful tribute to vocalist Jeremy Bolm's mother who died due to stage four cancer – is an album so personal and private it's both devastating and beautiful. At turns poetic and delicate, at others so wild and frayed its anger and regret and remorse lash out untethered. The result is an album that transcends 'heavy' music and genre constraints, unafraid to address universal themes of grief and loss, and mature enough to tackle the fallout head on.
This is bolstered by the music. Touché Amoré has never – ever – sounded this good. There's so much depth and shade to their sound, building on their blistering hardcore roots and incorporating more and more elements of indie and shoegaze and post-hardcore to the point that labels seem irrelevant. 'Stage Four' is a metaphorical punch to the heart and a physical punch to the gut, yet perversely serves as an answer to the Big Questions posed in 'Is Survived By'. It deserves to live long in the memory – and beyond. (RM)
2. Architects – All Our Gods Have Abandoned Us
Returning with a newfound confidence coming off the back of 'Lost Forever // Lost Together', Architects delivered their magnum opus in the form of the utterly monolithic 'All Our Gods Have Abandoned Us'. This is the sound of a band identifying what works for them and honing it to perfection.
With instrumentals that have such a machine-like bleakness to them, Sam Carter provided the ultimate juxtaposition with an emotionally wrought performance that showed an ever-improving vocal range, and an underlying rage that most political bands could only dream of. Taking to task the moral vacuum that has become so apparent in Western culture in recent times, Architects continue on the path of sociopolitical outrage that has defined their lyrical output since 'Daybreaker' through many of the tracks on this record.
However, the real star of the show was Tom Searle. A songwriting juggernaut and a profound lyricist, it's no secret that he was Architects. In retrospect, the pained beauty of 'Gone With The Wind' becomes all the more poignant, and as closing statements go, it's hard to think of one more fitting than eight-minute closer 'Memento Mori'.
A towering achievement in its own right and a triumph for British metal, this should and will be remembered as Tom Searle's and Architects' masterstroke. (JG)
1. Black Peaks – Statues
With an array of outstanding records from new and established names, it is no doubt that British rock has had a monumental year. At the pinnacle of fantastic albums was 'Statues' by Black Peaks. When we were first introduced to the Brighton group in 2015, we knew they had plenty of potential, however, we didn't expect them to deliver on that promise so soon.
'Statues' is a stunning, monumental record that flourishes in a cocktail of alt-rock, metallic riffs, prog rock and subtle post-rock. It is 11 uncompromising songs that instantly grab hold of you through complex, monstrous instrumentation, Will Gardner's dynamic vocals and contrasting styles.
For a debut album, Black Peaks sound like a band playing beyond their years. Joe Gosney riffs are ferocious and compelling. With Andrew Gosden providing hypnotic bass lines, and Liam Kearley holding everything together through thriving drum work.
From the colossal 'Glass Built Castles' all the way through to the towering finale of 'To Take the First Turn', Black Peaks have produced a substantial record that is cohesive and delivered with purpose. It's a superb accomplishment for Black Peaks and tops an impressive year for them. (SR)
Black Peaks passed on the following comment on being voted as Record of the Year:
"What a total honour to have been voted as Record of the Year with 'Statues' on Already Heard! When we were a few weeks into long long days in the studio making this record, it was easy to lose sight of how it sounded and what the final outcome would be. Every step since putting it out has been a humbling experience for us and it's an absolute joy to see so many people connecting with it."
Follow us on Spotify for more playlists.
Words by Sêan Reid (SR), Dane Wright (DW), Rob Mar (RM), Andy Davidson (AD), Alan Cunningham (AC), Joe Philpott (JP), and Josh Graham (JG).