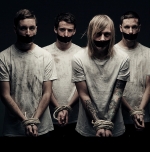 Following the departure of Tim Hillier-Brook, Architects have opened up auditions to replace Hillier-Brook.
Full details can be found below.
"ARCHITECTS GUITAR AUDITIONS
REQUIREMENTS-
Must be 20+.
Must have some touring experience (please provide details).
Must be based in the UK.
No criminal record.
Provide a video of you performing 'Alpha Omega' – Guitar Pro Tab is provided.
All applications should be sent to – architectsauditions@gmail.com
We will look at EVERY application that is given to us. However, auditions will be invite only, depending on if we deem the applicant suitable.
Please, feel free to send in a video and a little information on yourself but please don't be offended if we don't get back to you! This is a big decision for us and if we do find the right person it will only be after very careful consideration!
Obviously, please no time wasters. If you want to play in our band then DO NOT expect big pay cheques. We do not earn much money, but we do this because we love playing music and we love touring. If you love those things too, then that's a good start. If your motivation is to make money then don't bother applying."
As mentioned above, you can download the Guitar Pro Tab for the track 'Alpha Omega' by clicking here. Good luck.