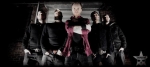 Newcastle metal band Arcite have joined Transcend Music. Their new album, 'The Escape Key' is expected to be released on 14th July.
1. II
2. Removed
3. The Escape Key
4. Perfect
5. The Tell
6. The Murder of Crows
7. Shingles
8. Sanctuary
9. For The Night
10. Salvation-Redemption-Deliverance
11. Amongst Ashes The lyric video for the title track can be viewed by clicking read more.