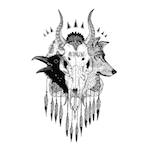 ArcTanGent have announced the line up for the opening night of this years festival with And So I Watch You From Afar returning to the festival.
Joining them will be Three Trapped Tigers, TTNG, The Physics House Band, Baby Godzilla, Nordic Giants, The St. Pierre Snake Invasion and Theo.
The line up is only available to those who purchase a "VIP Early Entry" ticket.
Organiser James Scarlett made the following comment:
"We wanted to bring back some of the bands that helped make last year's ArcTanGent such a success. The VIP Early Entry is an optional night, so it's really targeted at the super-fans. Bringing back some special guests will excite those who came to the festival last year, and will give those who missed it a chance to catch a little bit of the 2013 vibe."
ArcTanGent takes place at Fernhill Farm, Somerset and will take place from August 28th to 30.
Tickets for ArcTanGent are on sale now and can be purchased here.