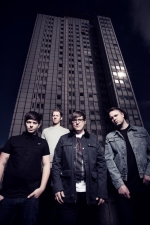 Attack! Attack! have announced they will be breaking up and will head out on one last UK tour next month.
A statement from the band can be viewed by clicking read more.
April
26 – Bridgend Hobo's
27 – Andover George
28 – Newcastle Academy
29 – Norwich Waterfront
30 – Manchester Sound Control
May
1 – Leeds Cockpit III
2 – Cardiff Undertone
3 – London Garage II
5 – Southampton Joiners
10 – Burnley Sanctuary
11 – Leicester Academy
The band's new album 'Long Road To Nowhere' is released on 1st April.
"It is with much regret that we have to inform you that Mike and Ryan are no longer in Attack! Attack! . We sat down with Ryan in early 2012 and he told us that it was becoming increasingly difficult for him to commit to the band. We hoped that this situation would change but unfortunately it hasn't. Since recording the album Mike has decided that the time has come for him to move on too. Will and I totally respect their decisions and hope that they have great success in whatever they choose to do moving forward.
The 4 of us have shared some amazing moments together. We have toured the world , released albums, played shows with some of our favourite bands and met the most incredible people. All of these memories are priceless to us. To be honest we couldn't imagine continuing the band without Mike and Ryan being in it , Attack! Attack! was meant to be the 4 of us together and if it can't be that way then Will and I feel it is better for the band to finish. We have not made this decision likely, we have spent months and months deliberating what to do. It has been one of the hardest decisions we have ever had to make.
The tour we have booked will still be going ahead but unfortunately for personal reasons Mike and Ryan will not be able to play with us . We will be asking our friend Todd from Straight Lines and Paul from Colours Of One to play with us on the tour. This tour will of course now be our final ever tour as Attack! Attack! so we really hope you can join us for a show and sing along with us for one last time. Let's make it a send off to remember!!!
Sincerely , from the bottom of our hearts, we thank you for your support. Without you none of this would have been possible.
Neil , Will, Mike and Ryan"