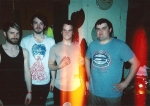 Baby Godzilla have revealed the music video for their next single, 'Don't Touch That Dial'.
The single will be released on translucent-blood wax 7-inch via Venn Records on 28th October. It will be limited to 500 copies and will include a b-side titled 'Pig'.
Click read more to view the video, and pre-order the 7" here.
October (with Hawk Eyes and Black Spiders)
Thursday 3rd Sheffield Corporation
Friday 4th Manchester Academy
Saturday 5th Newcastle Academy
Sunday 6th Glasgow Cathouse
Tuesday 8th Birmingham Academy
Wednesday 9th Bristol Thekkla
Thursday 10th Southampton The Cellar
Friday 11th London Electric Ballroom