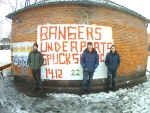 Cornwell Punk band Bangers are offering their new album, 'Crazy Fucking Dreams' as a pay-what-you-want download for seven days only.
The album is available to download here and can be streamed by clicking read more.
"Crazy Fucking Dreams' will be released on 21st October through Beach Community with a limited cassette release on the band's own label Specialist Subject..
October
Thu 17th The Old Blue Last, London
Fri 18th The Fenton, Leeds
Sat 19th Mothers Ruin, Bristol
Mon 21st The Cavern, Exeter
Fri 25th The Last Shop Standing, Plymouth