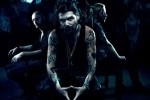 Biffy Clyro have confirmed they will release a B-Sides collection called 'Similarities' later this year.
Frontman Simon Neil told Kerrang!:
"We still have four or five songs from the album that no-one's heard yet, so it'll be nice to put those out. We'll put something out called 'Similarities'. That will have 18 songs, I think."
Neil also stated the band will begin recording the follow up to last years 'Opposites' album in 2015.