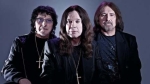 Metal pioneers Black Sabbath have released their new album '13' as a stream exclusively on iTunes.
The Rick Rubin produced record is already #1 in the Rock and Metal Album and single charts (for first single 'Gods is Dead?') on iTunes.
The album is released on 11th June on Vertigo.