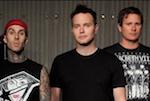 Blink-182 have been confirmed as the first headliners for the Reading and Leeds Festival 2014. It will be the bands only show of 2014.
Mark Hoppus made the following comment:
"I'm stoked to play Reading & Leeds 2014. It's our fourth time playing the festivals, and we're very honoured. The new year will see us in the studio preparing new music, getting ready to rock the fine people of the UK. Prepare for the fury."
Jake Bugg, Disclousre, Metronomy, Of Mice and Men, Wilkinson and I Am Legion have also been announced for the festival which takes place from August 22nd to 24th 2014.