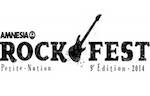 When it comes to news here at Already Heard, we usually focus on UK-related news however we sometimes make an exception, and when we saw the line-up for Montebello, Quebec, Canada's Amnesia Rockfest, we did just that.
The festival takes place across two days (June 20th and 21st) and is set to host a whole load of notable names from the world of rock, metal, punk and much more.
It's headlined by Blink-182 and Motley Crue with the likes of Weezer, Alice In Chains, Megadeth, Brand New, Taking Back Sunday, A Day To Remember, Mastodon, The Gaslight Anthem and Billy Talent being just some of the names announced.
The full line-up can be viewed by clicking read more.
Blink-182
Motley Crue
Weezer
Alice In Chains
Megadeth
Billy Talent
Danzig (with Doyle)
Primus
Five Finger Death Punch
NOFX
Cypress Hill
A Day To Remember
Mastodon
The Used
Lagwagon
The Gaslight Anthem
Me First And The Gimme Gimmies
Streetlight Mainfesto
Bigwig
Reel Big Fish
Goldfinger
Face To Face
Strung Out
Anti-Flag
Cock Sparrer
Black Flag
Fear
Dead Kennedys
Misfits
Suicidal Tendencies
88 Fingers Louie
Raised Fist
Joan Jett & The Blackhearts
Brand New
Taking Back Sunday
Meshuggah
Venom
Cradle Of Filth
Cannibal Corpse
Despised Icon
August Burns Red
Reverend Horton Heat
Henry Rollins
MXPX
Reset
Rocket From The Crypt
GOB
Cigar
Belvedere
Grimskunk
Mononc' Serge & Anonymous
The Sainte Catherines
The Planet Smashers
Exterio
H2O
Between The Buried And Me
Chain Of Strength
Judge
Strife
Ignite
Merauder
Glassjaw
Earth Crisis
All That Remains
Veil Of Maya
Dying Fetus
Throwdown
Anonymus with Marco Callari
Obliveon
Obey The Brave
Punk Rock Karaoke
Devil's Brigade
Street Dogs
Total Chaos
Title Fight
Bane
Counterparts
B.A.R.F.
100 Demons
Negative Approach
Wisdom In Chains
Tagada Jones
Parabellum
Implants
Liferuiner
Asexuals
Fifty nutz
Mute
Dance Larry Dance
Slaves On Dope
UKKO
Powernap
Mass Murder Messiah
Les Chiens Sales
Laureate
Heaven's Cry
Insurrection
Life On Trial