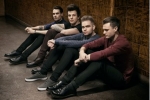 The final bands for Southampton's Takedown Festival has been announced with Blitz Kids, Heart of a Coward, Heart in Hand, Ghouls and Empire joining the lineup.
In addition the official UPRAWR aftershow will feature sets from Mel Clarke, Tommy Conflict and Jon Mahon.
Tickets are on sale now priced at just £30 from takedownfestival.co.uk. Aftershow party tickets are available also at just £4 if bought in advance with a Takedown ticket (£6 on the day.)
Takedown Festival takes place at Southampton University on March 15th.
Click read more to view the full lineup.