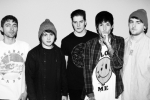 Drop Dead Clothing, the clothing line from Oli Sykes of Bring Me The Horizon has announced it will be releasing three collectable t-shirts in collaboration with SEGA next month.
The collection comprises three limited, collectible t-shirts which feature artwork from the popular SEGA retro games titles; Ecco The Dolphin™, Golden Axe™ and Streets Of Rage™.
The Drop Dead Mega Drive™ Collection is available online internationally on the 10th December via the Drop Dead online store. The collection will be available at Drop Dead London on Saturday 7th of December from 10am, with limited edition goodie bag giveaways.