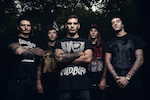 Brutality Will Prevail have announced that they have signed a worldwide deal with Siege Of Amida / Century Media Records.
A deluxe reissue of 'Scatter The Ashes' on gatefold 12" Vinyl and 21-track, double CD set, is set to be released on November 18th. It will include 11 bonus tracks taken from the bands 'The Root Of All Evil' album and 2011's 'Sleep Paralysis' EP.
In additional news the quintet will enter Monnowvalley Studios in Wales this month to begin the recording of their fourth album with producer Gethin Pearson. The album is set to be released in Spring 2014.