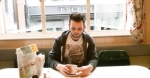 Burn Daylight has announced he will release a charity covers EP this Tuesday (11th December).
'Covers' will be available as a "pay-what-you-want" download with proceeds going to The Alzhiemers Society.
1. Bruce Springsteen – Thunder Road
2. The Menzingers – Time Tables
3. Sam Russo – Tinned Peaches
4. Apologies, I Have None – Long Gone
Further information can be found here.