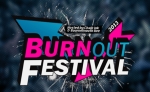 The organisers behind the Bournemouth-based Burn Out Festival have announced it has been cancelled due to low ticket sales.
The two day festival was set to place this weekend (Saturday 27th and Sunday 28th July) with its lineup including the likes of Kids In Glass Houses, We Are The Ocean, Mallory Knox, The Skints, Sonic Boom Six, Arcane Roots amongst others. 
Organisers are looking at arranging on two smaller shows. We advise fans to check for updates on the festival's Facebook page.
The following message has been released regarding the cancellation:
"Rumours… Time to put them to rest.
This will be an open and to the bone announcement.
Some, probably won't get passed here and know what the over all outcome is and that's all they needed to know, but there are others who may wish to know and hear more than a standard statement would provide.
Burn Out is cancelled. There is no nice way to put it. This is devastating for me. Burn Out is not run by a big company. It has a core team of 4 people and a couple of great people on the outside who have supported it to the Nth degree. We're music fans who did our best to try and provide an event to like minded individuals, we all work full time and put our own money into this. We have worked for the last 10 months or so on this event. And we have really given it as much time as possible to get on track and to be a success, which has lead to the last minute announcement. It's not ideal or how we envisaged things turning out. For that I can only apologise.
But due to low sales we were facing losses far too great to overlook. The event was set with a capacity of 800 a day. We were a tiny festival in the grand scheme of things with a line up we hoped competed with some of the larger events. But we fell short. With only 250 sales across the weekend, the losses to carry on were doubling the costs to cancel.
We would have needed to sell over 400 tickets in the last 5 days to even get the event to a point were the losses to continue were similar to those to cancel.
I never expected I would need to write this statement, I never planned for it, I have already spent over £500.00 to get the wristbands printed… This was never our intention.
But staring at a substantial loss and knowing that would be our loss, the hardest decision had to be made.
I am sure we are going to hear cries of "If you didn't have the money you shouldn't have attempted the event" or similar, but this would be naive. Even if I did have £X amount in my account, the event would still be going down this route. No one expected the line up to falter to this extent. Granted we had set backs and issues with the line up and structure of the festival that have affected the promotion of the event, but never was it anticipated it would end this way.
We are trying to salvage something from all of this. Last Resort are still looking to come down and party and so a one off club night at The Anvil will be taking place, and we are trying to get some of the bands to play a free entry event at The Anvil across the weekend. If we can get this off the ground we will announce asap, but aware to some it may be too little too late. But, I am already losing a considerable amount of money, it's only fair I attempt to get something out of it as an apology to those who showed good faith in the event.
Everyone will receive a refund on their tickets and anyone who is still going to utilise any travel and accommodation booked will receive priority on entry to any event we get arranged and we will also hand out some Atticus clothing.
We know we can't fully make it up to anyone. But we are trying to provide some sort of silver lining.
We'll hopefully have details soon on which bands will be playing. 
Again we are sorry it has come down to this, but we hope this has provided some insight into the situation we faced."