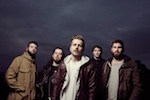 Earlier this week Hampshire metallers Bury Tomorrow confirmed the release of their third album 'Runes' through Nuclear Blast on May 26th.
Now the band have premiered the first single from the album. 'Watcher' can be streamed by clicking read more below.
Vocalist Daniel Winter-Bates made the following comment about the track:
"We felt this song gave the best representation of the sound we have gone for with Runes. Watcher shows our heavy and melodic side really well and we were stoked to show the world some new riffs. The response so far has been beyond our expectations, people seem to have completely got what we were going for musically and lyrically. We can't wait to release an official single but for now this is a little taster. Runes is the album we have always wanted to make and we cannot wait for everyone to hear it. Progressing from (2012's) 'Union of Crowns', we've tried to capture our favourite era of metalcore whilst blending the nuances of what make the genre so great today. It's a faster, more aggressive album, but it still sounds like us, we couldn't be prouder of it!"
The band will also head out on an intimate UK tour around the release of 'Runes'.
May
21 Stoke Sugarmill
22 Edinburgh Studio 24
23 Liverpool Academy 2
28 Oxford Academy 2
29 Cardiff Solus 2
30 Plymouth White Rabbit
31 Kingston Peel