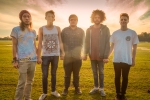 Calls Landing and Make Your Mark have added a date to their forthcoming UK tour. 
Both bands will play Leicester's The Soundhouse on Wednesday 20th February.
As previously announced the tour is being sponsored by Already Heard.
February
Mon 18th Sheffield, South Sea
Tue 19th Leeds, Cockpit (Slam Dunk clubnight, free entry with ticket)
Wed 20th Leicester, The Soundhouse
Thu 21st Bristol, The Lanes
Fri 22nd Manchester, Zoo (Deadbolt clubnight, free entry with ticekt)
Sat 23rd Newport, Le Pub
Sun 24th TBC
The band are now looking to fill the Sunday February 24th date of the tour.
Promoters who are interested in fulfilling either date are advised to email Calls Landing at callslanding@hotmail.co.uk