The final bands for Manchester's SummerJam 2013 have been announced with Canterbury, Gnarwolves, Attention Thieves, Heart of a Coward, Malefice, and With One Last Breath joining the line-up.
SummerJam 2013 takes place at Sound Control, Manchester on July 20th and 21st.
Further information can be found on Facebook.
Click read more to view the full line-up.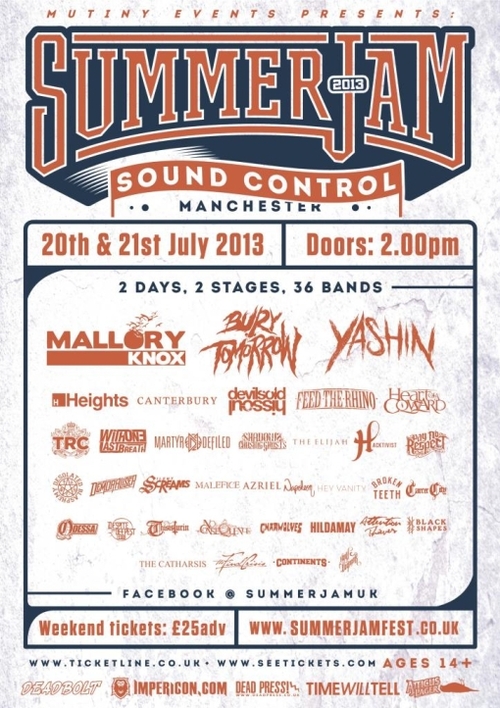 Attention Thieves *
Azriel
Black Shapes
Broken Teeth
Bury Tomorrow
Canterbury *
Carcer City
The Catharsis
Continents
Demoraliser
Desolated
Despite My Deepest Fear
Devil Sold His Soul
The Elijah
Feed The Rhino
The Final Crisis
Gnarwolves *
Hacktivist
Heights
Heart Of A Coward *
Hey Vanity
Hildamay
Malefice *
Mallory Knox
Martyr Defiled
Napoleon
No Consequence
Now, Voyager
Odessa
Pay No Respect
Shadows Chasing Ghosts
Silent Screams
This Is Turin
TRC
With One Last Breath *
Yashin
* = latest addition