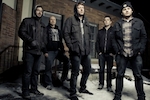 Canadian hardcore band Comeback Kid have revealed details of their 5th album, 'Die Knowing'.
The album will be released through Victory Records on March 4th.
1. Die Knowing
2. Lower The Line
3. Wasted Arrows
4. Losing Sleep (feat. Pauly Correia)
5. Should Know Better
6. I Depend, I Control
7. Somewhere In This Miserable…
8. Beyond
9. Unconditional
10. Didn't Even Mind
11. Full Swing (feat. Scott Wade)
12. Sink In
A trailer for the album can be viewed by clicking read more.
April (support from Xibalba, The Greenery and Malevolence)
14 Cardiff Clwb Ifor Bach
15 Glasgow Classic Grand
16 Manchester Sound Control
17 London Camden Underworld
18 Brighton Audio