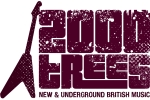 The organisers behind the 2000 Trees Festival have made their first full announce with the likes Dan Le Sac Vs. Scroobius Pip, Gnarwolves, and Johnny Foreigner set to play the opening night of the Upcote Farm-based festival.
Joining them on the Thursday will be Ben Warwood, The Retrospective Soundtrack Players and Oxygen Thief.
The announcement follows last weeks news that Jamie Lenman will be headlining The Cave (second stage) on Saturday 11th July.
2000 Trees Festival takes place at Upcote Farm, Gloucestershire from July 10th to 12th.