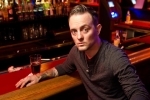 In preparation for the release of his new album 'Devour' on 8th October, Dave Hause will be playing a free instore show at the Johnny Cupcakes store in London next Tuesday (6th August).
The show starts at 7pm.
A flyer for the show can be viewed by clicking read more.