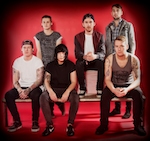 North-west sextet Dead Winter have announced their debut EP, 'Erasing Glaciers' will be released on 3rd February.
1. Bribe For The Ferryman
2. Snakebites & Streetfights
3. Every Silver Lining Has A Cloud
4. Erasing Glaciers
5. You're Not The Only One
6. Survival
The title track and 'Bribe For The Ferryman' can be streamed by clicking read more.