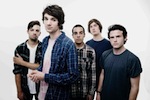 Details of the debut album from Decade has been announced and will be titled 'Good Luck'. The album will be released on 13th January 2014 via Spinefarm Records.
1. Good Luck
2. Brainfreeze
3. Callous
4. British Weather
5. Woke
6. I Don't Care
7. Fools Gold
8. Coffin
9. Homebound
10. Fake teeth
BONUS TRACKS
11. Thursday (live)
12. Who Knew? (live)
ITUNES DELUXE BONUS TRACKS
13. Brainfreeze (acoustic)
14. British Weather (acoustic)
The bands new single, 'Callous' is available as a free download via a digital scratchcard here. The video for 'Callous' can be viewed by clicking read more.