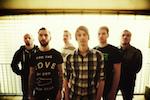 Basick Records have announced the signing of Devil Sold His Soul . The deal will see the label re-release 'Darkness Prevails' and 'A Fragile Hope', as well as unveil new material from the band, currently pencilled for Spring 2014.
Basick Records' Barley commented on the signing:
"I've been a Devil Sold His Soul fan ever since I felt the first chords of Darkness Prevails crunching through my skull back in 2005. When I got the recent news that my good friend Paul Green was taking up vocal duties for the band, I just knew that the result would be something that I would have to try and work with in any way I could. Enormous songwriting coupled with a ridiculous vocal talent; DSHS just achieved a Level-Up!"
The bands new music video for current single, 'Time' has also been premiered and can be viewed by clicking read more.