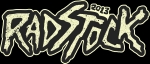 The second set of bands for the inaugural Radstock Festival has been announced. Joining the line-up are Don Broco, Bury Tomorrow, Bleed From Within, Martyr Defiled, Blitz Kids, Polar, Marmozets, Demoraliser, Light You Up, Rat Attack, For Eyes and All Of This.
Radstock Festival 2013 will take at Liverpool's O2 Academy on Saturday 30th March 2013, across three stages along with a merch village, artist meet'n'greet area and after-show party featuring special guest DJ's.
Full Radstock Festival 2013 line-up:
The Blackout
We Are The Ocean
Don Broco
Yashin
Bury Tomorrow
Bleed From Within
Red Jumpsuit Apparatus
Sonic Boom Six
Martyr Defiled
Polar
Natives
With One Last Breath
Straight Lines
Blitz Kids
Marmozets
Demoraliser
Carcer City
Gnarwolves
Decade
Light You Up
Tantrum To Blind
Rat Attack
For Eyes
All Of This.
Tickets are available now and can be purchased here.