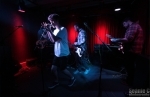 Due to other commitments, Driveway have pulled out of their forthcoming tour with Hindsights and The Winter Passing.
The band posted the following message:
"As some of you may have seen or heard already, we have had to drop off our UK tour with The Winter Passing and Hindsights. Work and college commitments have gotten in the way, and with such short notice, it would be impossible to get replacements and be ready for tour. We'd like to apologise to anyone that may have been looking forward to seeing us and also the other bands for having to do this. Thanks to all the promoters that were willing to put us on a show and to the other bands for having us. Special shout out to Rob for booking the tour to begin with.
The tour is going ahead with the two other bands and all the shows are going to be great. You should all definitely head along to one and support two good bands. Thanks."
August
22 Fibbers (Basement), Dublin*
26 Mozarts, Swansea
27 Green Park Tavern, Bath
28 Heart Attack & Vine, Newcastle
29 Broudcast, Glasgow
30 Downstairs, Aberdeen
September
01 Make A Noise Festival, Chatham
02 The Marquee, Norwich
03 Urban Bar, London
04 The Star Inn, Guildford
*The Winter Passing only