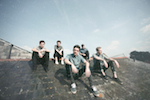 Echoes have premiered a new track called 'Empty Lungs'. It is the bands first new track in over a year and a half.
Vocalist Joshua Thurbin said:
"It feels great to release this track after so long. I think Empty Lungs shows how we have matured and progressed as a band' He continues "The response has been overwhelming. To show people something new and for them to instantly get what we are about is amazing! We are so grateful to everyone who has taken the time to listen so far, we can't wait to get the album out next year!"
Click read more to hear 'Empty Lungs'.