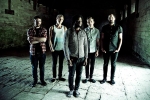 South West 5 piece Empire will be releasing their debut mini album 'Where The World Begins' on October 14th, through the bands own Lightside Records.
1. Black Hearts
2. All The Rage
3. Future, Past & Present
4. Friendly Fools
5. My Colour Optimistic
6. Same Mistake
7. Smart Boy Regime
8. Wish, Wish, Wish
The opening track, 'Black Hearts' will be available as free download from October 7th.
August
1st Firefly, Worcester
10th Tattoo Royale Festival
16th 2pigs, Cheltenham
September
20th Frogfest, Cheltenham
October
6th Heaven and Hell Fest, Gloucester