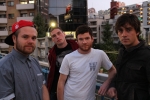 Enter Shikari have announced plans for two releases in the coming months. The first release will be a new single entitled 'The Paddington Frisk' and will be released 4th April.
The single will be followed by a live CD/DVD release in May; 'Live At The Barrowland. Bootleg Series Vol.5.'
Enter Shikari begin an extensive UK tour next week.
April
Thur 4th – Dorking – Dorking Halls (Sold Out) £
Fri 5th – Frome – Cheese & Grain &
Sat 6th – Plymouth – University £
Mon 8th – Falmouth – Princess Pavilion (Sold Out) $
Tue 9th – Salisbury – City Hall (Sold Out) £
Wed 10th – Weston Supermare – Grand Pier £
Fri 12th – Swansea – Brangwyn Hall (Sold Out) £
Sat 13th – Ebbw Vale – Leisure Centre £
Mon 15th – New Brighton – Floral Pavilion (Sold Out) $
Tue 16th – Kilmarnock – Grand Hall $
Wed 17th – Inverness – Iron Works $
Thur 18th – Aberdeen – Garage (Sold Out) $
Sun 21st – Galashiels – Volunteer Hall $
Mon 22nd – Lincoln – Engine Shed $
Tue 23rd – Scarborough – Ocean Rooms $
Wed 24th – Scunthorpe – Baths Hall £
Fri 26th – Hatfield – Forum (Sold Out) @
Sat 27th – Northampton – Roadmender (Sold Out) £
Sun 28th – Peterborough – Cresset (Sold Out) £
Tue 30th – Belfast – Mandela Hall €
May
Wed 1st – Derry – Nerve Centre €
Thur 2nd – Cork – Pavilion €
Fri 3rd – Dublin – Academy €
Sat 4th – Liverpool – Academy (Liverpool Sound City) §
Sun 5th – Coventry – Kasbah (Sold Out) %
% – Hacktivist + Baby Godzilla
£ – Hacktivist + Tu Amore
& – Hacktivist + Sell Your Sky
@ – Don Broco + Hacktivist + Jbm
€ – Hacktivist + Wounds
§ – Hacktivist + Marmozets + Neck Deep