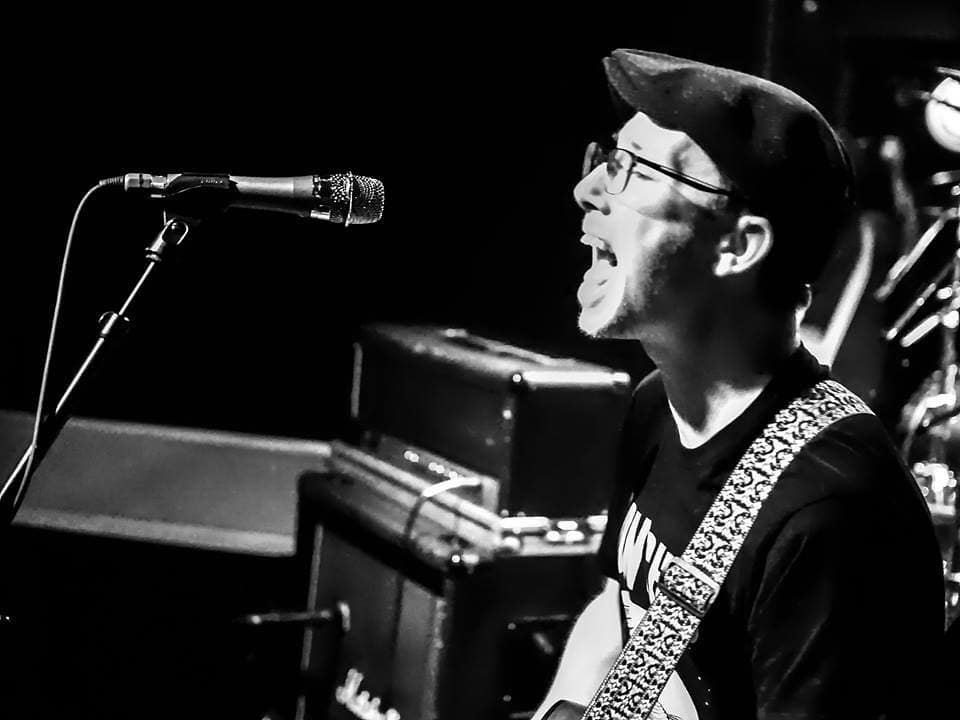 The name Arms & Hearts will be a familiar one to longtime Already Heard readers. In recent years, Steve Millar has been performing his brand of impassioned folk punk up and down the UK.
Today, Millar releases his new EP, 'Wires Crossed' through Real Ghost Records. For the Manchester-based singer-songwriter, it's a different release as it is the first with a full band. The end result is a set of heartfelt punk that combines Millar's influences, The Gaslight Anthem and Chuck Ragan, with deeply personal songs. As Steve explains in detail below, 'Wires Crossed' sees him explore his own mental health.
To mark its release, we're giving 'Wires Crossed' the exclusive premiere treatment. While Steve has penned a track-by-track account of the EP.
Sore Sight For Sorry Eyes
'Sore Sight for Sorry Eyes' was the first song I wrote for this EP, and as soon as I had written it, I knew that it would be the single. Musically I wanted to go for a Beach Slang / Iron Chic vibe. With this being the first EP with full band production, my thought process was 'if I am going to go different, I'm going to really go different'.
Lyrically, (as most of my songs are) this track is about my steadily declining mental health, but also seeing a lot of my friends in bands absolutely smash it and feeling that I have not been able to give this the time it deserves, which can make me feel jaded.
Wires Crossed
This was one of the later songs I wrote for this record. I actually wrote about 12 songs for this EP before deciding on the final track listing. 'Wires Crossed' and 'Benchmarks' were written afterwards. This one follows a similar subject to 'SSFSE' and the feeling that time is passing me by a bit.
It's worth mentioning now that I recorded, mixed and produced this all myself. The reverse cymbal before the final chorus was actually a joke to begin with, but then I decided that I actually really liked it for some reason. So it stayed. Reverse cymbals are punk right?!
Falling Short
I wrote this song about CIS dickheads on the internet. Like whenever the subject of non-binary genders come up, some people seem to act like it's going to affect their lives in some way? It's something that really really infuriates me. It's weird because I'm a very privileged cis white male, so I had to try hard to avoid virtue signalling, but I wanted to try and actually do something positive with my privilege. I had lots of fun with the electric guitars on this one and singing with my friends for the gang vocals at the end.
Back Up Plans
I wanted this to have a big finish. I actually wrote the final part about three years ago but never had a song that seemed to fit until one day at when I was practising with my drummer (Sam Johnson) when I just whacked it on the end, and it just seemed right. I layered a lot of electric guitars at the end to get as big a sound as possible. At the time I was listening to a lot of Apologies, I Have None, and really liked the ending to 'Long Gone' with those huge backing vocals at the end. So that was what I opted to do!
Benchmarks
This was the last song I wrote for this EP. I actually was halfway through recording another song instead, but it wasn't coming together anywhere near how I envisioned. I wrote this while suffering from the worst hangover I think I've ever had (thanks 2 Pint glasses at the Manchester Ritz!), and just feeling extremely scared about the future. At the same time, I just wanted to try to say 'this isn't it, things can and will get better'. Also, I managed to reference The Menzingers and Kim Carnes in one song. That's definitely punk right?'
'Wires Crossed' EP by Arms & Hearts is available now on Real Ghost Records.
Arms & Hearts links: Facebook | Twitter | Instagram | Bandcamp
Real Ghost Records links: Website | Facebook | Bandcamp | Soundcloud
Do you have a new video or release you'd like to premier on Already Heard? If so contact Sêan Reid to find out more.
---
If you have enjoyed reading this article and would like to help us produce more content and promote more great new music, please consider donating to our Patreon page.