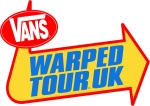 Ernie Ball have launched a Battle of The Bands offering bands a chance to play their local Vans Warped Tour Europe date this November.
One band from each host country will get to play their local Warped date in either Berlin, Eindhoven, London, Bern or Vienna.
Bands are advised to make an account and encourage fans to vote for them at warpedeu.battleofthebands.com.
Voting ends on 25th October.
A shortlist of the top voted bands will then be sent to Ernie Balls music industry panel of judges before the winners are revealed.