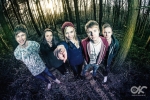 Birmingham pop-rockers Everybody Looks Famous have announced their debut album, 'Fuel To Fire.' The album will be released through Go Faster Records on 23rd August.
1. Fuel To Fire
2. I Break My Own Rules
3. The Good Life
4. Spotlights
5. Someone Else
6. Fly
7. Phoenix
8. Fingerprints
9. Thoughts
10. Stay With Me
11. Skinny Jeans
12. The Game
They will also be touring the UK next month.
August
8th Nottingham Red Rooms
9th Sheffield Corporation
10th Newcastle o2 Academy2
12th Manchester Roadhouse
13th Birmingham o2 Academy3
14th Bristol, The Croft
16th Peterborough, Met Lounge
17th London, The Garage