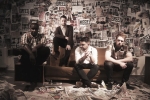 Members of defunct Hertfordshire Pop Punk band Paige have formed a new band called Young Classics.
According to a press release, their début full length is complete and has influences spanning from Thrice to New Found Glory and all in between.
Young Classics also posted the following message:
"As a band, we have gone through a lot of changes over the past year. We have lost and gained members, and with that being said our sound has changed dramatically. We decided it was time to call it a day as Paige and start a fresh with something new and exciting."
Young Classics' debut single, 'Don't You Dare' is released on February 25th.