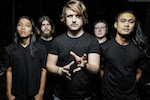 London experimental metallers Exist Immortal have confirmed their debut album, 'Darkness Of An Age' will be released on 12th May.
1. Insanity Project
2. Legions
3. In Parallax
4. Edge Of Infinity
5. Imperator
6. Desolace
7. The Participant
8. Embrace The Cycle
9. Liberator
10. The Omen Machine
A track from the album, 'Legions' is available to download for free here and can be streamed by clicking read more.