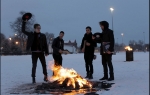 After much online speculation, Fall Out Boy have reunited and will be playing a one-off London show at The Underworld on February 25th.
The show follows the bands announcement of a new album and single. The album is called 'Save Rock and Roll' and is set to be released on Monday May 6th.
A new single 'My Songs Know What You Did In The Dark (Light Em Up)' is available now and can be streamed by clicking read more.
The band also posted the following message on their official site:
"When we were kids the only thing that got us through most days was music. Its why we started fall out boy in the first place. This isn't a reunion because we never broke up. We needed to plug back in and make some music that matters to us.
The future of fall out boy starts now.
Save rock and roll… "