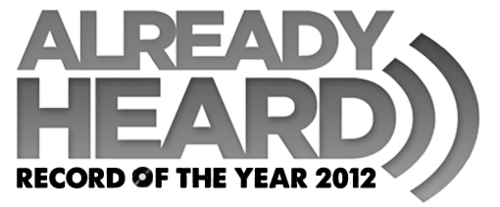 Once again 2012 has a been another great year for music. It's been a year full of surprises and disappointments but most importantly brilliant music, and with the festive period quickly approaching, we're getting all retrospective here at Already Heard, so what better time to reveal our Top 10 Records of the Year!
After much discussion, the Already Heard team have come up with what we think are the best ten records of the past twelve months. These ten records are a culmination of what each member of the Already Heard team has picked as their favourite releases from this year. From Ohio-based Pop Punk to Prog Rock concept albums to Americana Punk Rock and much more, we think our Top Ten Records of the Year is diverse and truly shows what Already Heard is all about. 
Let us know what you think to the list on our Facebook page or on Twitter.
10. Our Time Down Here – Midnight Mass
Our Time Down Here's 'Midnight Mass' is an incredible progression in the right direction. Not only do you feel as though the band are now achieving a sound that they set out to a long time ago, it's exactly the fresh take on music that's needed. We come across so many bland and average records that to have even just one that's portraying a sense of something unique is refreshing.
Track to track show how the Southampton band can tackle a little from all genres. 'The Reckoning' proves to fans that they can, and could, continue on the hardcore ball they began rolling. Then tracks like 'Crystal Effigy' prove how diverse and how much inspiration from all kinds of art this band take.
If you want to listen to an album that doesn't sound like anything you've heard before, 'Midnight Mass' is the one, and this is why it takes right of place in the Already Heard top ten of 2012. (RK)
9. Mixtapes – Even On The Worse Nights
Mixtapes have produced a considerable back catalogue in just a few short years but 2012's 'Even on the Worst Nights' is (so far) the pinnacle. Sixteen short and sweet pop-punk rock and roll songs with not a note out of place, not a lyric written that doesn't beg for a sing along with best friends. Life abounds on this record and it's the tales of honest living and the raw human emotion that course through every single track that gives 'Even on the Worst Nights' its brilliance. The lyrics, however, aren't the whole party – some people may roll their eyes at the simple chords and neat, catchy riffs but that's their loss. Mixtapes play with feeling untouched by the majority of this year's albums and they play well. Structurally awesome, massive sounding songs from the heart – nothing more and nothing less than what rock and roll has always claimed to be.
No 'woe is me' entitlement rears its ugly head at any point on this record: this is honest, musically wonderful pop punk. Mixtapes are unashamed in their use of major chords, big choruses, catchy riffs, and dual vocals making 'Even of the Worst Nights' a perfect record for the eternally positive, for the crestfallen, and for everyone in between – pure unadulterated good times. (TK)
8. Coheed And Cambria – The Afterman: Ascension
The first part of the double album from prog concept masters Coheed And Cambria brought an absolutely welcomed return to form, and a welcomed return to Josh Eppard on drums. 'Ascension' depicted, well, the ascension of Sirius Amory. Musically we had the heavier side of things with 'Domino The Destitute'but also the ever so stunning delicately played title track. It was this new feel that was reminiscent of recent albums, but the groove laden 'Goodnight, Fair Lady' that was seeping of past Coheed releases.
It's Coheed And Cambria at their current best, but also their past best, so there really is something for old fans and new to sink into. And the fact that it's a double album means there's even more to come! Will 'The Descension' be in our top 10? We'll see. (MB)
7. Title Fight – Floral Green
Following up 2011's 'Shed' was never going to be an easy task but with 'Floral Green' Pennsylvania's Title Fight expanded their hardcore punk sound with depth and fullness. 
'Head In The Ceiling Fan' showed a different side to the band with it's atmospheric, drifting tone and haunting vocal delivery, whilst 'Secret Society' is vivid, aggressive and truly showcases everything that is great about Title Fight.
'Floral Green' diversifies Title Fight's sound but sticks to the bands origins, proving it to be a genuine record. (SR)
6. Every Time I Die – Ex Lives
As if they couldn't be any more ferocious, Every Time I Die loosened the collar on this monstrosity and showed the world that they were far from over, unleashing possibly their heaviest record to date. Ryan 'Legs' Leger was the new sticksman and brought with him a whole dose of speed; up the tempo on every track you've enjoyed from the band's discography and you'll find it's new counterpart on 'Ex Lives'.
A tangent in the form of 'Revival Mode' was also revealed. It was still Every Time I Die, but a lot slower. The thing is though, it was still bloody good. Some fans were split by it, but many will agree that it's just the best evidence to prove that Every Time I Die are a good band and will be good no matter what they do. Now go get those arms flailing. (MB)
5. Enter Shikari – A Flash Flood Of Colour
They just get better and better. 'A Flash Flood Of Colour' was the band crossing the genres of rock and dance even further and making sure they made sweet, sweet love in the process. Hardcore, punk and post hardcore influences were all there for the mosh whilst dubstep, drum and bass and trance all played huge parts in the euphoric essence that the band utilise so well.
With some of their best tracks to date and an even better live set to match, Enter Shikari are forever going to be labelled with 'onwards and upwards' as their really is no sign of them slowing down, ever. Each track on this album was superb for its own reasons and it's really no surprise that we loved it as much as we did as there's something all music fans can enjoy. Like I said, onwards and upwards. (MB)
4. Don Broco – Priorities
Don Broco are a band that you can't pinpoint to a specific genre, but they do what they do very well. 'Priorities' is all killer, no filler, and with a great live show to go with it, its not surprising to see how successful these guys are becoming.
Without a doubt 'Priorities' is an album full of potential sings with tons of catchy choruses; the title track itself is the ultimate "bros before hoes'" song, and 'Whole Truth' is sure to be a radio hit. With radio airplay, festival appearances, and lots of sold out shows, 2012 has been a great year for the Bedford quartet and they won't be slowing down any time soon. (CM)
3. Deftones – Koi No Yokan
As consistent as always, Deftones made their return late in the year and in a big way as 'Koi No Yokan' proved to be a focused record that mixed heavy, sharp riffs of their early days and comfortably blended it with a dynamic, atmospheric approach. 
Tracks like 'Entombed' left us in a euphoric haze whilst 'Tempest' and 'Swerve City' burst through with pounding drums and Chino Moreno's cinematic, soaring vocals.
'Koi No Yokan' is seamless and flows with so much ease. It is a record fuelled by Deftones' hunger, ambition and experience with the end result being a engaging, concise record. (SR)
2. Apologies, I Have None – London
"You never did shit that you shouldn't, never did things that you said that you wouldn't, never said shit wish that you hadn't now." – 'The 26'
With 'London', Apologies, I Have None have produced a punk rock Google Maps. By the end of this magnificent record you'll feel as though you know the city like the back of your hand. This is a concept album without the pomp and circumstance, a blistering collection of punk rock gems tied together by friendship, truth, and bus routes.
"I'm not looking for familiarity, or routine, just a little consistency", the band plead on 'Clapton Pond' and that's exactly what this record offers. Nothing over done, no dime a dozen London Punk songs, but a hope in common and life consistent with anyone who ever had a heart.
There's beautiful musicianship and story telling that would make even Springsteen jealous here. Fantastic crescendos, powerful choruses, and heartbreaking desperation build a pedestal for Apologies to stand deservedly upon. If you need proof that this album is missing from your collection just listen to 'The 26' and try keeping yourself still when the untouchably passionate, wonderfully poetic breakdown builds back in to a raucous ending. Showing an aggression in detailing those feelings we're often too ashamed to admit, Apologies prove that they aren't ones to shy away from the truths of human nature. Hell, they'll sing them from the rooftops and throw in enough melody to keep them in your head forever. (TK)
1. The Menzingers – On The Impossible Past
Released way back in February, The Menzingers' Epitaph début is the most consistent, perfect record of the year with many tendencies that make it rare, unique and even timeless. 
Filled with Americana lyrical imagery and fuelled by the bands honest punk rock sound, 'On The Impossible Past' grabs your attention from the very opening line of "I've been having a horrible time" ('Good Things') and keeps hold of it all the way through to the very end of 'Freedom Bridge' taking you on an overwhelming, sincere musical journey. From the rousing, pumping 'Ava House' to drifting title track, this is a record made by a band who are not only sincere but also confident.
Rich in sound with song writing to match, The Menzingers' third full-length is a record that is not only a flawless punk record but it transcends the genre and beyond. (SR)
Listen to all ten records on Spotify.
Let us know what you think to the list on our Facebook page or on Twitter.
Words by Sean Reid (SR), Mikey Brown (MB), Tom Knott (TK), Callum McPhee (CM) and Rosie Kerr (RK).