The response to our decision to revive our "If I…" feature has been overwhelming so we've made a decision to treat you to it twice a week. From now expect to see "If I…" interviews appear every Monday and Thursday.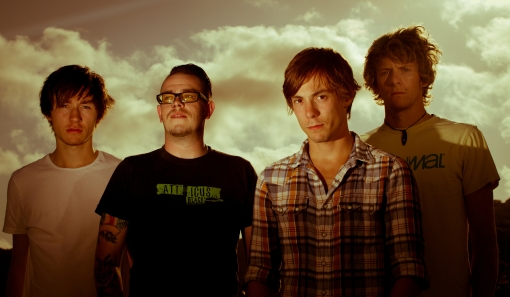 For this edition of "If I…" we caught up with Sussex Alt-rockers City Of Ashes. Formed back in 2009, the quartet made up of vocalist Orion Powell, guitarist James Macdonald, bassist Dan Frederick and drummer Dan Russell, have been honing their skills by relentlessly playing shows alongside plenty of fellow exciting UK bands as well as some familiar names; Young Guns, Polar, Shadows Chasing Ghosts, Hildamay, Yashin and more.
This month saw the release of Matt O'Grady-produced EP, 'Then There Was A Hand In The Darkness', a release that sees City of Ashes combine dynamic guitars with bold hooks and earnest emotion to deliver a diverse and solid EP.
City of Ashes collectively told us which defunct New Jersey band they'd like to reform and play with, which 1990's novelty song they wish they had written and more.
If your band would like to be featured as part of "If I…" full details can be found here.
If I could re-record one song it would be…
City of Ashes: In terms of our own songs, we probably wouldn't want to re-record any at the moment. We're pretty happy with the ones we have done and are having a really great time writing new ones so it would seem like a bit of a back step at the moment. In terms of other people's songs… Well, we've had a few ideas for songs we might like to cover at some point. It'd be fun to do our own take on different song or two but for now we're so busy with all our current commitments that we haven't had the time! Watch this space for the future though!
If I could re-live one tour/show it would be…
CoA: We've had a lot of cool experiences so far. A couple of the best moments were at last year's Guilfest where we got to hang out and play some of our favourite bands like Young Guns, Skindred, Fearless Vampire Killers, Kids in Glass Houses and so many others. That was a dream come true. Another amazing moment was playing with Shadows Chasing Ghosts and Polar on their tour a while back. Getting to hang out and chat with Polar vocalist, Woody, is a moment we won't soon forget!
If I had the chance to play one venue it would be…
CoA: So many! Rock AM ring would be an amazing dream. I'd like to think we could get there one day.
If I could play with one band it would be…
CoA: There's so many cool one's we've played with already and hopefully a lot more to come. If Thursday ever reform we'd love to play with them!
If I could play with any person living or dead it would be…
CoA: Led Zeppelin!
If I could bring back any band that have split up, it would be…
CoA: Thursday! They're one of the most interesting and influential bands on us as we were discovering rock music and later forming a band.
If I wasn't playing music, I would be…
CoA: Very depressed.
If I could play a different genre it would be…
CoA: We wouldn't want to be. If we did we wouldn't be in this band! Having said that though we enjoy a huge range of music as individuals from Classical to Metal and everything inbetween.
If I could have written any song it would be…
CoA: Mr. Blobby… The lyrics are inspiring.
If I could have written any album it would be…
CoA: Backstreet Boys – Backstreet's Back. In all seriousness we actually have taken this on the road.
If I could headline any festival, it would be…
CoA: Warped Tour! The only thing better than headlining an amazing festival would be to tour it and get to do it everyday!
If I could organise my own festival, the bands playing would be…
CoA: All the bands we've met on tour to be honest. They're all amazing people and great bands! Fearless Vampire Killers, The Dead Lay Waiting, Polar, Hildamay, The Effect, Young Guns, Jet Pack, Fei Comodo (RIP), Silent Descent, Skindred, Honningbara and so many more!
If I could play any other instrument, it would be…
CoA: Saxophone.
If I could give one piece of advice to a new band, it would be…
CoA: Be prepared to work hard and take a lot of criticism… not all of it constructive. Don't let it get you down!
'Then There Was A Hand In The Darkness' by City of Ashes is available now.
City of Ashes links: Official Website|Facebook|Twitter|Youtube
Words by Sean Reid (@SReidPortfolio)