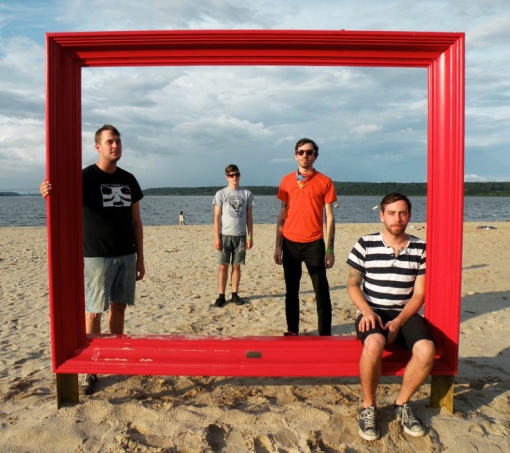 Late last year Brooklyn, NY's Marine Electric finally released their debut record 'Restrained Joy.' With comparisons to Hot Water Music, Small Brown Bike, and The Casket Lottery, 'Restrained Joy' sees the quartet dealing with life's obstacles and overcoming them in a moment of clarity.
Marine Electric recently followed up 'Restrained Joy' with a split 7" alongside Long Island punks and recent European tour buddies Fellow Project and are set tour the US in the spring.
Bassist Eric Fairchild recently took part in our "If I…" questionnaire and tells us which disbanded Michigan post-hardcore band are under appreciated, why he'd like to tour with KISS, and more.
If I could re-record one song it would be…
Eric Fairchild: We would probably choose 'Coyote' from the 'Head West' 7". Its one of the only songs from our old repertoire that we still play, and we've changed our own parts over the years. It would be interesting to hear it re-recorded considering how much we've grown as musicians.
If I could re-live one tour/show it would be…
EF: Oh shit the Europe tour obviously. We just got back from a month long stint with Fellow Project, and needless to say it was fucking awesome. The people were great, and they had a tight knit punk community which they opened up to us. We drank to much, but looking back we should have drank a little more.
<a href="http://marineelectric.bandcamp.com/album/restrained-joy" data-mce-href="http://marineelectric.bandcamp.com/album/restrained-joy">Restrained Joy by The Marine Electric</a>
If I had the chance to play one venue it would be…
EF: Suburbia in Brooklyn. That place rules.
If I could play with one band it would be…
EF: KISS on the 1999 farewell tour. Paul Stanely's stage banter is legendary. We've been rocking "People Let Me Get This Off My Chest" in the van every chance we get.
If I could play with any person living or dead it would be…
EF: I'd play in a band with Jimi Hendrix, John Lennon, John Bonham, and that dead bass player from The Who so my Dad would finally be proud of me.
If I could bring back any band that have split up, it would be…
EF: Definitely Bear vs Shark. Such an under appreciated band in their time. We had the pleasure of seeing them in our hometown to about 6 people. But generally we like it when bands split up after a few good records. It makes their music more poignant.
If I wasn't playing music, I would be…
EF: Dead in a ditch somewhere, or selling drugs. But seriously probably something in visual arts. We are all interested in other art-forms and pursue them when we have the time.
If I could play a different genre it would be…
EF: Fred can play other genres and plays in all sorts of groups ranging from jazz to experimental to classical. Scott would be getting high and playing Shoegaze, I would be getting high and producing beats for rap songs and Hunter is getting high and would be playing Stoner Metal if he wasn't so high.
If I could have written any song it would be…
EF: 'Dragula' by Rob Zombie, I want to live inside that video. His movies are almost as good as his music.
If I could have written any album it would be…
EF: On the serious tip, fucking 'Blue Album' (Weezer) or some shit. That's a great album. We all found it around the same time and it inspired us to play the stuff that we did. We've all grown musically and play more technically now, but there is beauty in those songs' simplicity.
If I could headline any festival, it would be…
EF: We just want to play the Fest, we don't need to headline. Tony are you out there?
If I could organise my own festival, the bands playing would be…
EF: We have done so in the past at our old DIY Venue Emerald City! We definitely plan to do a Suburbia Fest in the upcoming year. Bands we would want to see on the bill are The Sidekicks, Iron Chic, Off With Their Heads, Campaign, Whirr, etc. You get the idea.
If I could play any other instrument, it would be…
EF: Lets not get ahead of ourselves, were just happy with the instruments we can play. But we do have a Conch Shell in the house, and we all really want to sound the horn.
If I could give one piece of advice to a new band, it would be…
EF: Be fearless with your creativity: write the music YOU want to hear, above all. I learned this early on which has afforded me a catalog of music that I'm proud of. Even the ska band I was in back in high school with a few of the members of Marine Electric still sounds good to me. If you stay true to what excites you most then you have the greatest chance of having a long, happy relationship with your instrument, band mates and fans.
'Restrained Joy' by Marine Electric is out now on Insrgnt / Unbuckled.