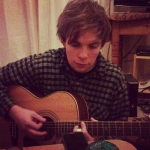 After a brief sabbatical from the site, we've brought back our "If I…" feature. If you're unfamiliar with the feature, "If I…" is our regular questionnaire feature where we simply ask a set of questions beginning with "If I…" This week singer-songwriter Lake Michigan takes the "infamous" questionnaire.
Lake Michigan is the alias York native Chris Marks goes by. His thoroughly acoustic Emo DIY sound is introspective and completely honest that has been compared to American Football and Velvet Underground.
If your band would like to be featured as part of "If I…" full details can be found here.
If I could re-record one song it would be…
Lake Michigan: A song that is on my first EP ('Personal Shit') called 'Sailboats,' because my voice has got a lot stronger since then and I was super proud of that song at the time and kinda still am now.
If I could re-live one tour/show it would be…
LM: I played at a rad little DIY venue in Nottingham called JT Soar, and everyone was so receptive and it looked like some people were going to cry, totally don't know whether I should take that as a compliment or not. Also the other bands who played (Mars to Stay and Julliard) were awesome.
If I had the chance to play one venue it would be…
LM: The Fireside Bowl in Chicago.
<a href="http://lakemichigan.bandcamp.com/album/clavicle-relief" data-mce-href="http://lakemichigan.bandcamp.com/album/clavicle-relief">Clavicle Relief by Lake Michigan</a>
If I could play with one band it would be…
LM: Brand New, because of how ridiculously inspirational they've been to me pretty much since I started avidly playing and listening to music.
If I could play with any person living or dead it would be…
LM: I would give nigh on anything to jam with Jon Brion.
If I could bring back any band that have split up, it would be…
LM: That's tough, I think its very easy for reunions to suck because of people having different agendas or whatever, but if I had to say, I'd probably go with Indian Summer or I Hate Myself, just so I'd have chance to see them live.
If I wasn't playing music, I would be…
LM: I'd like to think I'd be writing short stories and stuff or just being creative and productive in some way shape or form. But I'd probably just be working, drinking even more coffee and watching even more shitty daytime television.
If I could play a different genre it would be…
LM: Something kind of noisey and doomy but with jazzy elements, that's not even me trying to be "quirky", I would actually love that. 
If I could have written any song it would be…
LM: 'Katy's Song' by Red House Painters or 'Moonlight in Vermont' by Frank Sinatra. Two of my favourite songs in the world.
If I could have written any album it would be…
LM: Death Cab for Cutie's 'We Have the Facts and We're Voting Yes.' T he feelings that record gives me are hard to match.
If I could headline any festival, it would be…
LM: I think I would probably die due to nerves but totally Sasquatch Festival, mainly of the location. 
If I could organise my own festival, the bands playing would be…
LM: A general handful of bands would be (obviously a couple of deaths make this even more impossible): Elliott Smith, Nick Drake, David Bazan, I Hate Myself, Sunny Day Real Estate, Indian Summer, Slint, Fugazi, Death Cab For Cutie, Cap'n Jazz, Baths, Explosions In The Sky and way too many more to think of and list.
If I could play any other instrument, it would be…
LM: Piano, I've wanted to some ridiculously minimal and gentle compositions just on an old grand piano for a long long time.
If I could give one piece of advice to a new band, it would be…
LM: DON'T take yourselves too seriously when you're starting out, and seriously concentrate on enjoying what you're playing. Music isn't a labour or a job or a chore until you choose to make it one.
'Clavicle Relief' EP by Lake Michigan is available now on Bandcamp.
'Lake Michigan' by Lake Michigan is expected to be released on 14th February.