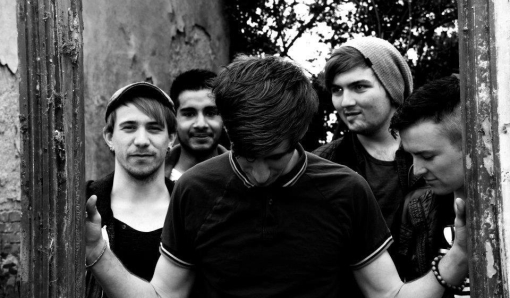 This week Suffolk alt-rock quintet Fenrir head out on tour with emerging Searching Alaska and with their debut EP, 'Live Like Royalty' set to be released later this month Fenrir are already being labelled as "ones to watch." 
Their sound has been compared to the likes of Deaf Havana and Young Guns; effective passionate rock with bold hooks. 
Fenrir guitarist Mike Cockayne recently spoke to Already Heard for our regular "If I…" feature. Despite the bands melodic rock sound, Cockayne told us about his love for Maroon 5 and Busted however he also proudly discusses his love for the British independent music scene. Read on to find out more.
If I could re-record one song it would be…
Mike Cockayne: Of our own songs I would re-record 'Puppeteer.' There's alot we could improve on it. It was just too difficult a song to record in such a short space of time.
If I could re-live one tour/show it would be…
MC: Well our first gig was with Housefires and they were incredible and the atmosphere was great, most likely due to me being so intoxicated, there was probably no one there! That or our Ipswich show supporting Under the Influence. The place was packed and it was the first time we had a full room of people we didn't know, and they seemed to really enjoy our set.
If I had the chance to play one venue it would be…
MC: Would Wembley be a bit obvious? Other than that I'm a big fan of Brixton Academy. I've been there twice now and I just think it looks beautiful and the sound is incredible.
If I could play with one band it would be…
MC: Oh god who wouldn't I want to play with!? So many great bands I love right now. I actually look more forward to the possibility of playing with my kind of "local heroes" because right now the unsigned music scene is amazing.
If I could play with any person living or dead it would be…
: Claude Debussy. THAT would be an interesting gig.
If I could bring back any band that have split up, it would be…
MC: Busted hands down. They're the reason I'm even in a band in the first place. I'm not afraid to admit that, they're probably my biggest influence…
If I wasn't playing music, I would be…
MC: Probably doing nothing, working a night and day job like I do now anyway but with no ambition whatsoever. Music is all I've wanted to do for quite some time now. I can't think of any sort of plan B.
If I could play a different genre it would be…
MC: Probably some sort of sexy funk/jazz stuff something like the old Maroon 5 style, it just gives me goosebumps hearing music that cool! We've tried acoustifying some songs of ours in a kind of Mumford and Sons sort of way too, personally I think we have a knack for it so that would be an alternative.
If I could have written any song it would be…
MC: 'Hold On' by Don Broco. Just about the coolest song I've heard for years. When we were last in London we spent most of the time dancing on the escalators to this song. You would never have guessed we were all adults.
If I could have written any album it would be…
MC: Maroon 5 – Songs about Jane. Arguably one of the best albums ever written in my opinion. So damn good!
If I could headline any festival, it would be…
: Download I guess? Although the smaller festivals that popped up last year like Redfest etc. has had some incredible line-ups that I would have killed to be a part of, so any of those would do!
If I could organise my own festival, the bands playing would be…
MC: All my favourite local bands really and a lot of the bands we've played with so far. Like I said, the unsigned music scene right now is so good I couldn't think of any better bands to play with or to see all together in one big festival. I won't list them as it would take a fortnight though.
If I could play any other instrument, it would be…
MC: Piano or Saxophone. I dabble with Piano but I want to be a proper Pianist not just someone who can transpose some chords from guitar to piano. Such a beautiful and versatile instrument. Saxophone however is just so damn sexy, I couldn't imagine anything cooler than pulling out a saxophone and jamming some Barry White!
If I could give one piece of advice to a new band, it would be…
MC: Don't give up. It's just about the most difficult thing in the world to do but if you love it, then you're a fool to let it slip away for whatever reasons. Being in a band is hard work, just like any relationship you have to resolve arguments and not just break up. I've been gigging with the same two guys since I was 14, if we broke up everytime we argued we wouldn't have done much. As a second little bit of advice; I read a quote once which was simply "play each gig as if you were playing a stadium", you never know who's watching and it makes things so much easier when you can enjoy yourself that much even if you're playing a toilet.
Fenrir links: Facebook|Twitter|Bandcamp
Fenrir begin their UK tour with Searching Alaska today.
March
7th The Lanes, Bristol
8th Community Centre, Guildford
9th Hunters Club, Bury St Edmunds
10th The Steamboat, Ipswich
12th The Cave, Addlestone
13th The Penny Whistle, Northampton
14th The Flapper, Birmingham
15th The Square, Harlow
16th Hole In The Wall, Colchester